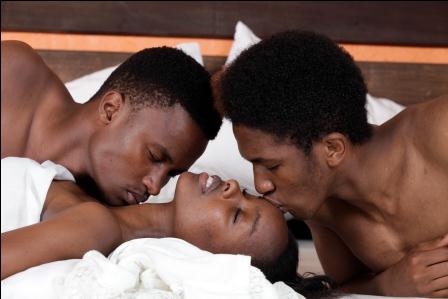 My husband wants to have a threesome
My husband wants to include others in our intimate sessions. I've told him I have no desire to be with another man or woman. He says it would be a real turn on to see me with someone else and him with a different woman. I don't mind sharing – except my man! It's tearing our relationship apart. I'm so confused and heartbroken. What do I do?
Dear confused and heartbroken,
That is a very tough proposition. It reminds of the movie 'Indecent Proposal' where a billionaire offers a married couple one million dollars. In return, the wife has to spend one night with him. After difficult discussions, the couples agree but their marriage takes a downhill spiral. Issues of mistrust and insecurities eventually lead them to divorce.
This goes to show that without boundaries and principles, marriage just like any other institution, is bound to fail. It doesn't matter if the breaching of those boundaries was mutual or not.
Before taking drastic measures like frog marching him for prayers to rebuke the devil out of him, or a meeting with his parents to discuss what a pervert they raised, you might want to consider the following:
Sex within marriage is sacred. In fact, marriages can be annulled if they're not consummated through sex. This is applicable in most of Kenya, both culturally and religiously.
Biologically, a woman in her sexual peak produces a hormone known as oxytocin, or the bonding/love hormone. This feel-good hormone makes women bond or fall in love with a mate. Even though men don't realize it, a whiff of this potent hormone subconsciously bonds a man to a woman.
Now having said that, what would stop you or your husband falling in love with the other people introduced in the sexual acts? There's also the issue of size, especially for men. What if the other guy has a bigger penis? How will your husband react to that?
Another questions to ask is whether your husband is interested in adding another woman? If so, is he prepared for any negatives feelings you might have if she turns out to be amazing in bed?
My theory is that your husband could just be bored with your bedroom activities. If you are a couple that always has sex in the same position, under the covers, with the lights off, it might be time to change things up a bit.
If this is the case, then a little spicing up and kinkiness will turn the heat up a notch. The first order of business is to find out what he fantasizes about. You can do this by asking him what kind of women he had in mind when thinks of adding more people into the mix. You can then prepare yourself and act out his fantasy. Remember that you have to be comfortable with it. And, it has to be safe and consensual. If he is into dominant women then a cop outfit complete with handcuffs would be a starting point. If he likes naughty girls, then learn how to strip tease and lap dance.
But what about you? What about the woman? This doesn't have to be about him only. I hope you see this as a challenge for yourself as well. How fun and exciting would it be for you as well to see him sweating bullets as you handcuff him to your bed? He won't know what is coming! You can always make a request of your own- whether it was a full body massage or doing it on the dining room table.
If your husband still insists on a third party, it might be time to sit down and talk about what the real issues are.
Above all, enjoy each other and be safe.
Have you ever been pressured into doing a sexual act that you were not sure about? How did you handle it? Share your experience with us on the discussion board, Facebook, or drop us a note below.