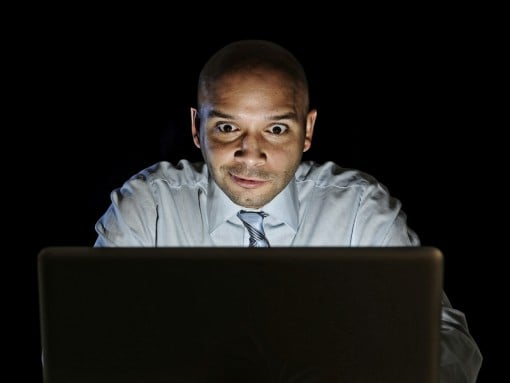 Can watching porn make you a better lover?
If you watch lots of porn, then real-life sex starts to seem dull – or so people say. But could porn actually be good for your sex life? The latest research has the answer.
Watching porn has gotten a bad rep in a lot of circles. Those who believe it has a negative effect argue that lots of porn can make it difficult for a guy to get or keep an erection when he's with his partner. Guys might get used to the type and variety of sex they see in porn films or clips, the argument goes, and when the time comes to getting turned on by their partner in real life, they just can't get aroused.
But there haven't been any studies to test whether there's a link between how much porn your average guy watches and his sex life.
That's why a group of researchers from the US and Canada thought they'd take a closer look at the effect of watching porn on erectile function and sexual arousal in men. 'Is watching porn really that bad for a guy?' they wanted to know.
The researchers rounded up 280 men who agreed to watch a short porn flick in the laboratory. The film involved a man and woman having consensual sex, and the participants were given private rooms and reassured no one would disturb them.
The clip didn't show anything too crazy, just a woman and man having ordinary intercourse.
More aroused
Each participant was asked to report how many hours of porn they watched per week and after they viewed the film, how aroused they were. They also answered questions about sexual desire and those who were in a relationship filled in a questionnaire on erectile function and satisfaction with their sex life.
The guys reported watching between zero and 25 hours of porn a week. Surprisingly, when it came to getting and keeping an erection during sex with their partner, there was no difference at all between those who watched lots of porn and those who didn't.
Not only did porn not cause erection problems, but guys who spent more time each week watching sex videos got more aroused by the movie they viewed in the lab.
Of course, one explanation could be that guys who are into porn in the first place would get more aroused than those who watch less of it. But the researchers argue that this is evidence that watching porn doesn't decrease a guy's arousal when it comes to real-life sex – the clip didn't show anything too crazy, just a woman and man having ordinary intercourse.
Men who watched more porn also had higher sex drives…
Learning new moves
Men who watched more porn also had higher sex drives, the questionnaire revealed. That was true for both masturbating and having sex with their partners.
Though it's not clear if watching porn actually leads to a higher sex drive and arousal – it could just as easily be the other way around – at the very least porn doesn't put a major damper on the sex most men have with their partners, the research showed.
So how could watching sex films make a guy a better lover? The researchers have a few ideas. One way is by showing the many different ways there are to have and enjoy sex. Besides learning new moves to add to their repertoire, men who watch porn might get aroused by a wider variety of activities in bed. This would bode pretty well for their partners, since women vary greatly when it comes to what turns them on.
If you watch porn, does it make you want sex with your partner more? Or less? Leave a comment here or on Facebook.
Source: Viewing Sexual Stimuli Associated with Greater Sexual Responsiveness, Not Erectile Dysfunction, Nicole Prause PhD, and James Pfaus PhD