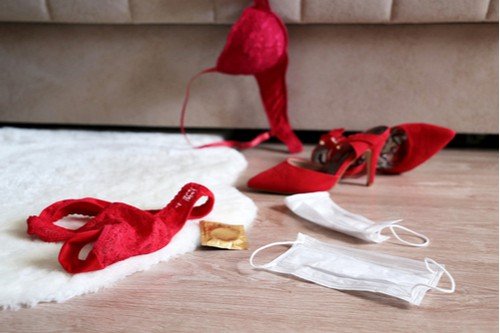 Sex as a coping mechanism during a pandemic
A pandemic is currently ravaging the world, a type that has never been seen before in the last 100 years or so. The novel Coronavirus, COVID-19 has infected over 600,000 people in over 200 countries of the world and has significantly altered our lifestyles.
Businesses and organisations have shut down, individuals are forced to practice social distancing, and families are forced to stay at home and inadvertently, bond.
While the current situation has led many single people to take to social media to cry out about the lack of sex; married people, on the other hand, are engaging in more sexual activities. But for many, it is not only about sex.
Yetunde and Oladipo have lived in a one-bedroom flat in the Iyana Ipaja area of Lagos since they got wedded 18 months ago. Yetunde works in faraway Lekki Phase 1 and after several conversations that led to arguments, her husband, Oladipo let go of the only car in the family so she could drive to work and back. He was left to manage with commuting to and from his office in Surulere with the public transportation system. Add this to a pregnancy loss, financial setbacks and family's constant pressure for a child, the young couple are burned out and would do anything to get back on track.
With their incredibly busy lives, Yetunde and Oladipo have lost their sexual intimacy and even the opportunity to hold meaningful conversations. But under disturbing COVID-19 circumstances, the government announced a lockdown that means these two will have no choice but to iron out differences, have those difficult conversations and resurrect their sex life.
For couples like Yetunde and Oladipo who have been deprived of intimacy, this very effect of the COVID-19 spread is a blessing in ugly disguise. Spending limitless time at home opens these relationships up to new possibilities assuming the parties involved are willing to and interested in maximising the situation.
For others, it is simply about sex.
They have had a fairly good marriage and all that the lockdown has offered is more time to flex their sex muscles. Although the fears of the damaging effects of COVID-19 has gotten to them, the only way they know to comfort each other is sex. Thankfully, studies have shown that sex is a great way to beat stress and in fact, according to reports published by the NHS, "in stress tests, including public speaking and doing mental arithmetic out loud, the people who had no sex at all had the highest stress levels."
We are currently living out a world that has never been seen before. A world that surprisingly presents limitless opportunities for those who have chosen to unveil the benefits that lie beneath these happenings. For married people and live-in lovers, sex is one of those benefits. You have each other, make the most of this and stay protected while at it. It is also important to note that if your partner is showing symptoms, it is best not to engage in sexual intercourse with them.
The opinions expressed in this piece are those of the author and are not necessarily endorsed by Love Matters
How are you managing your sexual desires during this timed or do you have questions about safe sex? Drop a comment and let us know.