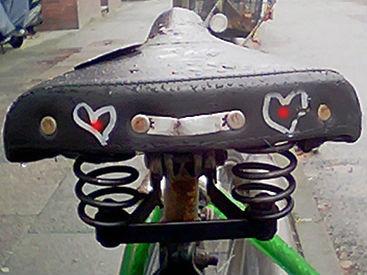 How healthy is sex?
Yes, sex is very good for you. But it's perhaps not so good for the planet. But you can make a difference! And a new bicycle seat cover may be part of the solution! These news flashes and more in this week's 'Sex in the Press'.
Sex good
Is sex good for you? 'The answer is a big, loud, bed-shaking, "Yeah, baby!"' according to 'Six ways getting horizontal makes you healthy'.

Sex is good for your heart, improves sleep, increases happiness, decreases the risk of prostate cancer, heightens creativity and cooperation, makes you look younger, relieves stress, etcetera, etcetera.
A recent study even says 'Orgasms are better for brains than crosswords' – thanks to the full head rush of oxygen and neural nutrients that comes with coming.
Save the planet
But sex sucks for the planet, says Professor John Guillebaud in his TEDx talk 'Is sex the most dangerous human activity, to all life on Earth?'

Each year, sex is responsible for pumping out a Germany or Egypt worth of people – 80 million pairs of carbon footprints.

Meanwhile, 'we are approaching a 'perfect storm' of population growth, climate change, and peak oil, leading inexorably to more food, water and energy insecurity.'

We must bust through the taboo of talking about overpopulation, according to Guillebaud. Establishing voluntary and accessible family planning 'within a human rights-based framework' is the most obvious way to help save the world. It would also be life-saving for many of the 1000 mothers who die every hour worldwide 'through a pregnancy they didn't want.'

And it works. Brazil, Costa Rica, Cuba, Iran, Korea, Mexico, Sri Lanka, Taiwan, Thailand and South India have all stabilised their population growth through education and voluntary family planning services – and not through the more coercive approach used by China with their 'one-child policy'.

'There is no major problem facing our planet that would not be easier to solve with fewer people, or harder – and ultimately impossible – with ever more,'  says Sir David Attenborough.
'Pelvic thrusts are a must'
In other depressing news, sex does not burn as many calories as previously thought, according to 'How much sex is considered exercise?'.

With the average act lasting only six minutes, sex is usually too short to make you skinny. Even when you manage to stretch it out for an hour, sex will generally burn no more than 200 calories.
 
But there are ways to approach sex that will help make you fitter. For example, using morning sex as a warm-up for a proper morning work-out. Or by eating more 'endurance-boosting foods such as 'figs, oysters, celery, blueberries, peanuts, bananas, garlic and even chocolate'.  Or by changing your positions more frequently and vigorously.

Or you can 'engage your core at all times while having sex.'

Positions such as 'Doggie Style', 'The Bends', 'The Cat', 'Scissoring', 'The Ballet Dancer' and 'Crab Walker' are particularly good at engaging the core, according to 'Sex positions that exercise different muscle groups'.
A very green solution
Or one can choose to combine one's exercise regime with a form of sexual activity.

For example, the Happy Ride is a "bicycle seat cover with a discreet, high-powered vibrator tucked inside […] and comes with an attached remote control so you can adjust the vibration speed to your liking," according to 'Your vagina and your bike'.

Just think: by biking and masturbating more, you'll not only get healthier, but also contribute to a greener and more sustainable future.


Are there other win-win ways to combine sex with saving the planet? Leave a comment below or join the discussion on Facebook.