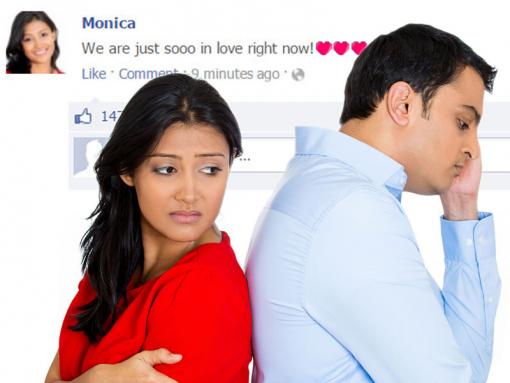 Does Facebook help or harm relationships?
Is Facebook good or bad for your relationship? That all depends on what you're doing and why you're doing it, says Dr Gwendolyn Seidman, an expert on how Facebook affects romantic relationships.
If you and your partner use Facebook, the chances are good that it's played a role in your relationship somehow. Maybe you actually met on FB when a friend suggested you'd hit it off. Or maybe your relationship began offline but grew in leaps and bounds once you connected on social media.
'Over a billion people use Facebook each day,' Dr Seidman says, 'and most people who have relationships and have Facebook do somehow indicate their relationship on it.'
You might do this actively, say by posting updates or couple pics, Dr Seidman told Love Matters. 'Then there are the passive ways of using Facebook, things like looking at your partner's friends list, posts, and the comments other people leave on their wall.'
Keeping tabs
You may have an idea or two about the role Facebook has played in your relationship – whether it's been mostly positive, or decidedly less so. But what does the research show about Facebook's impact on couples?
So far, studies have looked at what social media use says about a couple's relationship. But there hasn't been much research on the many ways romantic partners use Facebook and how it affects them.
That's why Dr Seidman was curious to see how things like posting couple pics, leaving affectionate messages on a partner's wall, keeping tabs on their social life, and private chats can impact a relationship.
She was also interested to understand whether people feel Facebook has a positive or negative effect. On the one hand, it could help you feel closer or more intimate with your partner. But it could also lead to jealousy and conflict, she reasoned.
She had close to 450 participants fill in questionnaires on how they used Facebook, whether things were going well in their relationship, and the impact they felt the social media platform had on their romantic lives.
So embarrassing!
Let's start with the good. People who publish more partner pics and affectionate posts tend to feel Facebook can be a positive thing, boosting intimacy and closeness, the results showed.
But there's definitely a line that can be crossed. Beyond it, public posts may have a negative impact. This might happen if a person feels their partner is using Facebook in a way they're just not comfortable with – say by posting embarrassing pics of the two of them smooching, or lovey-dovey comments.
Snooping?
When it comes to keeping tabs on a partner's life, Facebook can be positive for some and negative for others, Dr Seidman learned. It can show that a partner is totally into you and curious about everything that's going on in your life. But then it can also be seen as snooping and an invasion of privacy.
Undergrad students generally found Facebook to be more positive when it comes to checking up on a partner, the research showed. Many of them were in long-distance relationships and might have been keeping an eye on their partner's profile as a way to keep up with news in his or her life, Dr Seidman says.
Feel bad? Stop doing it!
So what do you do if you feel Facebook's role in your relationship is more negative than positive? Chat about it with your partner, if you can, Dr Seidman suggests. Maybe you're not comfortable with that pic of your boyfriend's arm around some girl's shoulders. Or you're feeling paranoid about comments a guy made on your girlfriend's wall. 'It can be hard to sound like you're not accusing them of something,' Dr Seidman says. Try to probe gently and find out the reality of what's happening in their life. The only way to build trust is through real contact between the two of you.
And though it's easier said than done, you can also try to spend less time looking at your partner's profile. 'Just don't get on Facebook all the time,' Dr Seidman says. 'It's an obvious piece of advice, but if it makes you feel bad, stop doing it.'
Relationship problems? Get advice on our forum – Let's talk!
References:
Presentation at the IARR conference 2016: Relationship Presentation and Interaction on Facebook, and Perceived Relational Consequences of Facebook
Interview with Dr Gwendolyn Seidman. Follow Gwendolyn on Twitter or read her blog on Psychology Today: Close Encounters,'explaining what's really behind our social behaviour – from close relationships to online communication'.