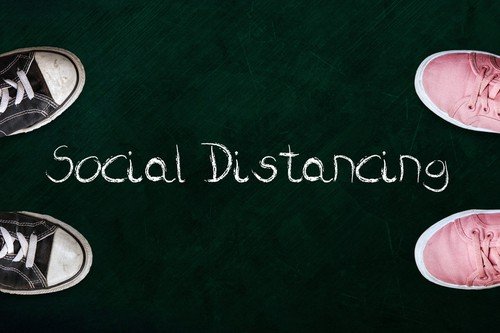 What you need to know about social distancing
A key recommendation in remaining safe, protecting yourself and your loved ones as the world battles to flatten the curve regarding the transmission of the coronavirus (COVID-19 or SARS-CoV-2) is social distancing.
This is employed to limit the spread of the virus from person to person thereby reducing the number of new infections and the overall number of people who get sick.

This article examines some of the key questions regarding social distancing and offers practical tips on how to practice social distancing.
What is social distancing?

 

Social distancing means avoiding crowds and keeping a safe distance (around 6 feet) from others when you are out in public. This helps you avoid being in their direct paths when they cough or sneeze as the virus may be spread via respiratory droplets. Social distancing entails avoiding areas where you would expect crowds such as schools, churches or mosques, football stadiums and concert halls. While practising social distancing, you should only go out when necessary. Social distancing will help you avoid close contact with people and public areas that may be contaminated.

How does social distancing help?

 

This is a tactic that has been employed by public health departments all over the world based on the lessons from past pandemics and the early lessons from this current pandemic. The larger the group, the higher the odds of viral transmission. Staying away from other people by staying at home ensures that the spread of the virus is limited and resolution is reached earlier.

Who should practice social distancing?

 

We should all practice social distancing. It is imperative, however, for the elderly and those with chronic medical conditions (e.g. cancer, heart disease or diabetes) to practice social distancing. The best time to start practising social distancing is yesterday. The next best possible time is right away.

What are some concerns with social distancing?

 

These are some concerns you may have with social distancing

Depression and boredom

: Many people have formed most of their lives around work and other meaningful activities warranting going out of their homes and meeting with others. Social distancing means that they have to remain in their homes, unable to get into their usual routine and often with too much time. This may lead them to feel sad, bored, and lonely or experience low moods.


 

Fear and anxiety

: anxiety around a pandemic is a normal reaction. You may feel anxious or worried about yourself or your family members contracting COVID-19 or spreading it to others. You may also have concerns about getting food, supplies and how the world will return to normal. This may cause you to have trouble sleeping, relaxing and for some people, cause them to have panic attacks.


 

Inability to mingle

: A great concern for some is being unable to go for a picnic, organise game nights, play dates or a walk in small groups. You are also unable to go to playgrounds or visit the elderly at this time. This may make you feel alone in the world or boxed in at home because humans are social animals and we need other people. However, it is necessary to physically separate and distance yourself from your family and loved ones. Protecting yourself and protecting them from contracting the virus.

What can you do while practising social distancing?

 

Maintain a healthy lifestyle: Get enough sleep, eat well and exercise in your home when you are physically capable of doing so. Your local health authority has recommendations on best practices and this may allow you to go for a jog or a run.


 

When you are out, avoid making contact with other people or public structures like park benches or railings. If you touch grocery carts or other items, wash your hands for thirty (30) seconds. If you go to restaurants, drive-through, delivery or pickup services should be utilised.


 

Create a daily routine: If you have to work from home, creating and maintaining a routine can give you a feeling of near normalcy. This helps you to remain focussed, preserve your sense of purpose and remain productive as you practice social distancing. If you are on a work holiday, create a routine for how your days will be spent.


 

Minimise contact with people in your household as much as possible. While this may be virtually impossible, families, where different persons go out of the house, should practice social distancing as much as possible. If any member of your family is sick, it is important to let them self-isolate with minimal contact with other members of the family.


 

Avoid using alcohol or drugs as a way to cope with stress. Instead, unwind with video games, puzzles or board games. Exercise in your residence and avoid going to the gym.


 

Stay virtually connected with others through social media, phone calls or video chat services. This feeling of being in touch with others will help you deal better with your loneliness, sadness and anxiety. Having friends over or visiting friends increases the odds of contracting the virus and spreading it which is counterintuitive to the overall plan.


 

Ensure that you limit information consumption and sharing to reliable and official sources. Fake news and conspiracy theories have been noted to unduly cause panic, increased feelings of fear and heighten anxiety. They may also misinform people and cause them to indulge in unsafe or harmful practices. This may be exceptionally high at this time due to the lockdowns in place in many parts of the globe.  Limit news consumption to reliable sources: the World Health Organisation and your national health departments are great places to start from.


 

Pick up a new interest. You may use the free time to perfect a new skill, pick up a new interest such as reading, listening to music or learning a new language or soft skill such as programming. You can also take online courses or attend online conferences in your field during this period.


 

If you need to reach out to your healthcare provider for non-emergent concerns relating to the coronavirus or for any other health concern, consider telemedicine. If you are sick, isolate yourself from others in your residence. If your symptoms worsen, contact your local health authority for guidance.


 

Maintain all other healthcare tips (such as washing hands, avoiding touching your face, coughing into your elbow and staying home if you feel sick) while practising social distancing.
With social distancing, you are not only protecting yourself, but you are also protecting others. In what ways are you staying safe through this period?