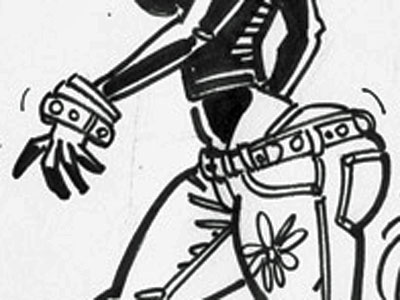 Big buttocks back in DRC
The bigger, the better. Large posteriors are making a comeback in the Democratic Republic of Congo. To get attractive behinds, some women are going to risky extremes. Rectal suppository diets, for example…
Yes, rectal suppository diets are thought by some as one surefire method to beef up the booty, with Maggi stock cubes being one common ingredient…
After some long, flat years in the DRC, curvy women are catching men's eyes again. Where does that leave those of a more slender stature? Pumping themselves with vitamins, ginger juice and stock cubes. Yet this popular diet in Kinshasa is not being swallowed whole. Rectal suppository diets are dangerous, say doctors.
Still, users are enthusiastic.
The power of stock cubes
One bum-enhancing mixture includes C4 syrup and tablets, Maggi stock cubes and Tangawisi, a raw ginger juice. 'And it works!' says Sophie who lives in Kinshasa's Binza-Upn neighbourhood.
As for Micheline's regimen: 'I add 50 vitamin tablets into the vitamin syrup and then take it before going to bed. I take the mixture once a week, sometimes throughout the week.'
Meanwhile, Henriette prefers Dongo-Dongo Gombo, a soup made from a hibiscus-like flower. 'I have noticed that C4 makes me very tired and drowsy,' says the young businesswoman, who wants to ensure she only puts on weight in one particular spot. Her conclusion: 'Gombo and stock cubes are the way to go for a nice-looking behind.'
Fashion
But why the resurgence of an ideal equating weight with beauty?
Marco, a young mentor to teenagers in the Matete district, points to the media and the advertising industry. 'I believe the famous Ivorian TV series Ma Famille – featuring the actress Nastou [Traoré] and her large bosom – has been a catalyst for Congolese women in Kinshasa,' he says. 'There's also the 'low-rise' trend characterised by wearing very tight pants to highlight women's curves. This is simply the result of fashion.'
'When a skinny girl or woman passes by, men don't even bother to look or show interest. But as soon as they see a chubby woman, with a round buttocks and full breasts, they turn around in a flash,' says Prisca, a psychology student at the University of Kinshasa. She cites comments such as 'Oyo suka na mutuka' ('Splendid ride') and 'Muasi muasi ndé nzoto' ('A woman, a real woman, must have curves'). 'There are women who like it when men praise their behind,' according to Prisca.
Side effects
Not all women seem to achieve the desired outcome of the suppository diet. Some only suffer the side effects.
'Some girls take ten tablets of C4 with large quantities of maize porridge and then go to sleep. They sometimes do this for weeks without any effect on their buttocks,' explains Sandrine
The human body usually rejects excess food when ingested orally. But when taken via the rectum, everything gets almost completely absorbed.
Complications
Over and above unforeseen complications, the overdose of some chemicals usually results in intoxication and infection, according to Angèle Mwenze, a military hospital doctor in the Lingwala district.
'I had a patient who died from engaging so much in the practice that some fluid started coming out from between her legs,' says Mwenze. 'She had an infection and died despite the treatment attempts. The insertion of stock cube in the rectum can cause breakages. There is also a risk of infarction, arteritis and heart attack.'
In Sophie's case, the plumping cure's effects were more than physical. 'My partner was becoming distant and blameful, and we were fighting a lot as a couple. So I had to do something to bring him back to me,' she says, describing one of her motives. 'It worked!'


What far would you go to enhance your backside? Leave a comment below or join the discussion on Facebook.