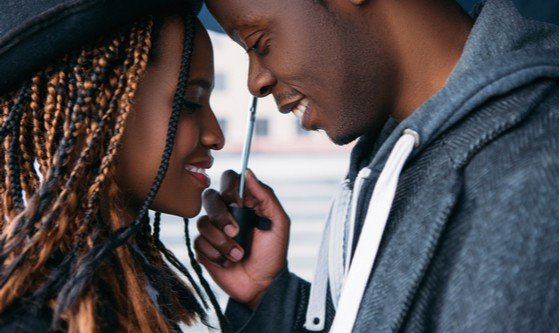 A sex therapist's thoughts: love, sex and relationships
Childhood can affect how you behave in your adulthood, especially around love, sex, and relationships. Our in-house sex therapist explains exactly how.
Love, sex, and relationships were not discussed enough as we were growing up and some of us were not even sure of what to expect before we experienced romantic love, sex, or formed romantic partnerships. I cannot emphasise enough on the importance of the messages we have on these three topics from childhood, and I will go into how these can manifest and even repress you in your adult life.
Let's start with love…
if you take yourself back to childhood, how was love expressed in your home? How did your parents express love towards each other? It is more common for parents to express love towards their children. But towards each other, it is sometimes not done, or it is even hidden. For example, I remember visiting my regular hair salon and there was a little child laughing while getting their hair cut. The child then told the lady cutting their hair, 'I saw Uncle touch my mum's boobs.' The mother hurriedly hushed the child – this was clearly uncomfortable for her. However, the child was merely expressing what they saw. It is messages like these that I am referring to.
Touching someone's breasts can be a way of expressing love (it can also be sensual, and not necessarily sexual) and as this woman may have grown up knowing that this was wrong and shameful, she hushed her child on the same. There are so many different types of touch that exist, so why was this perspective taboo?
Now let us talk about sex…
if you take yourself back to the messages that you received on sex when you were a child; what were they? Were you allowed to talk about sex freely? Where you able to approach your parents and ask them about sex? From what I have experienced, heard, and seen; a lot of us didn't have this much freedom to talk about sex. We can't really blame our parents for not being able to talk to us about something that they themselves were taught was shameful, so some of us work on ways to break the cycle in our adult lives, and some of us carry on the tradition.
We also don't talk much about sex before we get married or start a relationship (we also don't do much talking during). Some of us tend to go in expecting someone else to fulfill us when we ourselves sometimes don't even know what we like or want. This can then lead to sexless relationships or infidelity in our chosen relationships, as the person we find outside our marriage seems to know much more than our chosen partners.
And finally, relationships…
Here I am referring to romantic relationships. They can be beautiful; and love and sex have everything to do with romantic partnerships. Are we able to establish emotional connections with our significant others? Are we able to be truly vulnerable with them? Can we be open and honest in how we communicate? Can we talk about sex?
We enter relationships thinking that everything will work out like a well-oiled machine and when we stop working on the relationship, we start to live separate lives, have sexless relationships and end up in therapy – usually when it is too late – expecting a quick fix, with minimum resources and maximum output.
So, what can we do differently?
One of the things we can start doing is talking about how love and sex are to be expressed, what needs to be done in private and what can be done in public; and we can start with our children. This will, of course, vary from culture to culture. It varies because of how we were raised and what we could believe, see or talk about. Giving children age-appropriate information on human sexuality educates them on what is okay and not okay.
It also allows them to share if anything was inappropriately done to them in school, at home, with relatives, or anywhere they may be. By knowing more than your child about sexuality, you will be able to always to answer their questions and be their first point of call. They will trust you and be more open in their communication; this will then lead to a healthier and balanced adult. Talking to children about sex will not encourage them to have sex, any more than talking about money, fame, alcohol, drugs or any other thing that popular culture promotes.
What is happening more today?
What I see more today, is that in our relationships, we are breaking the cycle by either going into individual or couples therapy, educating ourselves on sexuality and gender diversity, and being more open with our children. We also try and find ways to communicate better, love ourselves, find out what we like, put ourselves first, question some of the messages we received as children and all this helps us be better versions of ourselves. By breaking the generational cycle of information and practices, we are now seeking peace, freedom, adventure, and what we wish we had when we were growing up.
Keep evolving…
Taking responsibility for your own personal growth is not only important, it is vital and progressive. After all, we can only control and shape ourselves. and not anything or anyone else. As change is a constant dynamic in life today, being adaptive is a quality we would all benefit from honing.
Can you talk to your parents about love, sex, and relationships? Do you think it is important?