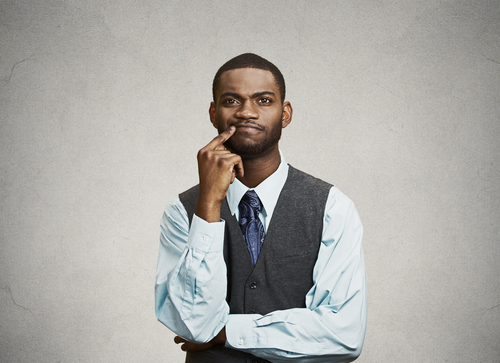 6 things to do if you're questioning your sexuality
'Wait a minute, I'm I gay?' have you ever asked yourself this question?
Some people know their sexual orientation from an early age while others know later in life. Both groups may start questioning and/or changing their sexuality at some point in life.
If you loved biology, there's a topic on metamorphosis. Human beings go through this process in various ways. Today, we will talk about metamorphosis in a sexual sense.
If you've ever, or are currently, questioning your sexuality, this is totally normal and can happen at any age. You are not alone.
There are many sexual identities, and finding one that aligns with you may take some time.
Here's how to handle it:
1. Be honest with yourself
This will save you a lot of unnecessary stress!
The first step is to acknowledge your feelings and changing preferences. Do not try to suppress or deny your feelings as this could make you sad, confused, or angry. Listen to your heart and mind and then decide which way to go.
At the end of the day, your sexuality is a personal matter and no one should tell you that you're wrong. The changes taking place are for your good as they will help you become a better version of your sexual self.
2. Read and learn and then learn more…
It would help if you research and educate yourself about sexuality i.e. queerness or heterosexuality.
This will not only help you understand your sexuality better but also give you confidence and a sense of belonging.
You can learn more by reading books, attending events, and connecting with relevant content creators. Connecting with others who are comfortable with their sexuality can help build your confidence and help you express yourself.
3. Talk to a trusted person
There's nothing as good as being in good company when feeling down or confused.
It helps to know that people like you exist.
If you have a trusted friend or family in the queer community, talk to them about your feelings. First, this is a safe space, and, second, talking to someone in the queer community can be a great experience since you are talking to someone with empathy.
If you have no one around you, consider an online help group. For safety purposes, use a pseudo name i.e. remain anonymous since you are not sure about who you are engaging with.
4. It's not always about labels
Trying to put a label on your new sexuality may seem like a priority but it doesn't' have to feel that way. First, you may easily get overwhelmed since the sexuality spectrum is quite broad.
Second, I understand that having a label such as 'bisexual', 'sapiosexual,' or 'asexual' can be validating and give you a sense of belonging yet you don't have to stress about putting yourself in any specific category. Plus, there are new labels every now and then and you don't want to feel stuck in one place or feel that you're confused about where you belong.
Remember: your sexuality is still valid even if you have not labeled it.
5. Go on an adventure!
Don't be afraid to explore your sexuality.
If you can, explore and be adventurous. The most important thing is to let your partner(s) know about your intentions. If you are in a committed relationship, talk to your partner about it. If you are both okay with you experimenting outside the relationship, good for you. If not, you can talk to them about your feelings and see what their feelings are towards your feelings.
In some cases, your partner may not be okay with your new feelings thus if you may have to decide whether you can move forward together or go your separate ways.
6. Your life, your pace
If you're not ready to explore sexuality, talk to someone, put a label on your sexuality, or you're simply nervous, the trick is to move at your pace.
If you feel guilty about keeping your current situation from your loved ones, don't! Don't feel the pressure if you're not ready to share.
Take your time. Whatever feels like a breath of fresh air, go for it!
Remember two things:
First, it takes courage and a lot of work to accept that you are questioning your sexuality. Don't forget to accept it and explore your sexuality without worry.
Second, the confusion won't last forever. It might take a bit longer than you'd like, but it will soon be over.
Have you or are you questioning your sexuality? Talk to us in the comments section.