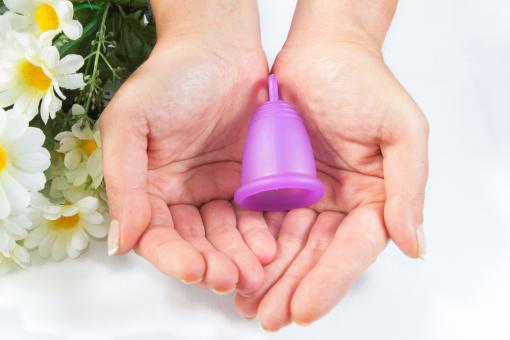 Menstrual cups: women's experiences
Menstrual cups are not just economical but can also be stress-free. We asked young women why they use or refuse menstrual cups during their periods.
'No more tears'
Discovering menstrual cups is the best thing that has happened to me this year. It's so comfortable that I have to constantly remind myself to take it out once every twelve hours. My first experience with a menstrual cup wasn't a pleasant one as it hurt. However, that was only because I wasn't inserting it right.
Next day, I learnt the right method from a video on the internet. So I would suggest new users to first do some research. The cup will never get stuck in your body, don't worry. The remarkable thing was, there was never even a tiny bit of blood spilt. All of my clothes survived my period without a stain. The only thing left to do is to spill some tears for facing the discomfort of pads all these years.
Michelle (28), student.
'It wasn't exactly silky!'
I read about menstrual cups online and got intrigued. I also did some research before buying it. My periods had been painless but when I first used a menstrual cup, I got terrible cramps. Few of my friends seem to love it so I don't think many people face this issue.
According to me, you need super origami skills to get it in the right way. Actually, I could only find one YouTube Vlogger who could empathise with me. I still look at the cup expectantly as it hangs near the mirror in my bathroom. For now, tampons work best for me.
Anna (26), student.
'You must try it!'
At the risk of sounding like a seller, my take is: If you have the resources, please do yourself and the environment a favour and try it out. Menstrual cup really does revolutionise your period experience in its own way. Once I got over the slight 'ick' factor and nervousness, I've had comfortable, worry-free and mess-free periods.
Diksha (27), manager.
'Pads have been pretty comfortable!'
I have heard about menstrual cups but I have never used them. Actually, somebody in my college had suggested it but I didn't pay much attention back then. All I know is they are put inside the vagina during menstruation.
I am a little confused between a tampon and a menstrual cup. It is not that I am not curious but I guess, pads have been pretty comfortable so far. That's why I have never thought of using cups or finding out more.
Maude (22), journalist.
'Empty, clean, reinsert, repeat!'
I know what a menstrual cup is but I haven't used it yet. I find the idea a bit awful due to hygiene issues. Not that sanitary napkins are extremely comfortable. What concerns me the most is the idea that these cups have to be emptied, cleaned and reinserted every few hours.
Tanya (31), NGO worker.
Find out facts about using menstrual cups.
'I am a happy beginner'
I was shopping in an organic store and my eyes fell upon this wonder. Unfortunately, the cup was too expensive there and I was on a tight budget.
However, recently when I read about the impact of sanitary napkins on the environment, I prepared myself to buy and use menstrual cups. I did some research and finally bought one from an online store. I also watched a lot of tutorial videos just to know everything before using them. To cut the long story short, I am happy using the cup now. And yes, I am a new convert!
Joyce (30), a research scholar and dancer.
All names have been changed upon request.
Have you ever used a menstrual cup? You can share your experience too. Write them as comments or join us on Facebook. If you have a question, visit our discussion forum.