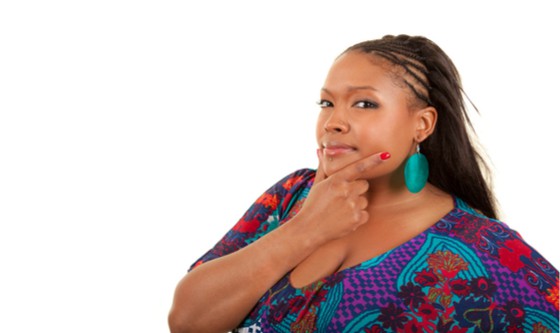 Big girl blues
Anna keeps having verbally abusive relationships – even when it starts well. At one point, the nasty remarks just start coming in. It's made her bitter about men…
Always cute and chubby
'I was always a big girl. I was the cute and chubby one in all the family pictures. That look works for as long as you are young. When you grow up and you're 5'6'' and 90kg, the ball game changes. The looks of disgust and the pointing of fingers start getting to you.

'I've tried all kinds of diets and even worked out at the gym for a long time. I even maintained 70kg for a while; it was still big, but thinner. But what's funny about being 'big boned' or 'plus-sized' – or whatever politically correct hogwash you prefer to use – is that you never ever see yourself smaller. Even if you have lost all the fat, you still see a fat person in the mirror.
A love for meat
'Then I met Ken who said he loved my curves and loved his women with flesh on them. Yeah, so I felt at ease, slowed down on my gym visits and stopped caring about what I ate. Ken loved nyama choma and we also religiously consumed stewed, roasted, or fried red meat on weekends. I remember the second time we went to Kikopey, I was very hesitant in my eating. Ken nudged me to eat more. I had slowed down on my teenage binge eating sprees, but now when my boyfriend showed approval I ripped into that meat!

'His friends also loved me. "Enyewe Ken wako haringi na food," one friend said. Both my man and his boys loved me. Sold!
Not the right curves
'But I should have been more instinctive. Within a few weeks, I hit 80 kilograms and Ken was slowing on our trips out of town and speeding up with excuses. I will never forget the night it ended. It had rained, I was drenched and the traffic was stuck. We opted to just grab a coffee to kill time. Ken couldn't find parking and told me to go ahead and order something. I hadn't eaten all day, so I ordered a meal and some coffee. I opted to not order his coffee because it might cool.

'Half an hour later Ken walks in drenched and sits down at the booth. 'You know you have such smooth dark skin, I normally don't date your kind. You are lucky,' he said. I ignored him.
'You have become nicely round lately but it's a shame it doesn't go to the right curves,' he continued.
'By now I had lost my appetite.'

'Then his tirade continued… I looked down and asked myself how I got to this point that my self-esteem was dictated by what a man wanted. I was broken. I just wanted, for once, to be loved for who I was. I am a good person and I deserve to be loved for my great personality and equally big body.'
 
Have you been disrespected for being who you are? Leave a comment below or join the discussion on Facebook: Love Matters Naija and Kenya.