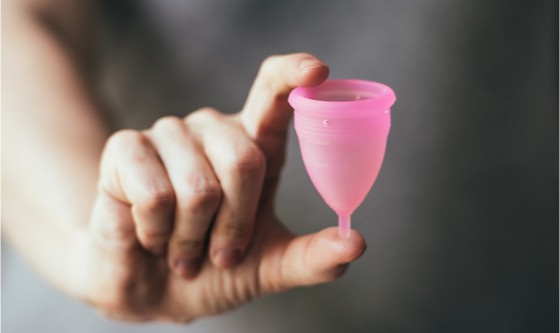 Menstrual cups: my first time
Menstrual cups are a big thing right now. Environmentally friendly, cheap in the long run, and chemical-free. But what's it like to use one for the first time?
I bought my menstrual cup a while back. All excited, I tried it immediately. A few hours later, I decided I hated it with a passion. It was uncomfortable and felt like it was sucking out my uterus.
Safe and free of chemicals
It's been a while though and it was time I tried again. I really wanted to like it – I'm kind of done with tampons. As practical as I find them, wearing one for longer periods of time (like at night) might increase the risk of getting toxic shock syndrome. Plus, many tampons are bleached and contain chemicals. And I really don't want chemicals in my vagina.
First-time use
So I tried to get acquainted with my cup again.
You first want to sterilise it in boiling water. Make sure it doesn't touch the bottom of whatever container you are using, as the silicone could melt. Wait until it has cooled before using it.

It seems really big when you first look at it and try to put it in. You have to squeeze or fold it and then insert it into your vagina. It takes some practice. For me, it was a bit awkward the first few times. The more relaxed you are, the better. If it's really difficult, try using a bit of water-based lubricant.
Once I got it in, I had to get used to the sensation. I could definitely feel it, especially right after putting it in. But because it's made of silicone, it does absorb body heat and that means that you will feel it less after a while. Or not at all.
Strange sensations
I'm not going to lie to you. The first day was strange and I wanted to go back to my beloved tampons. But I was also determined to really give it a try.
The best thing I did: cutting off half of the stem. It was clearly too long for me and it was actually sticking out of my vagina.
Also, at first, I constantly felt the urge to tighten my pelvic floor muscles to keep the cup in place. It took some time to start feeling like I could relax 'down there'.
But the worst part was taking it out for the first time. It's best if you give it a little squeeze again to make it smaller and easier to remove. I didn't; and yanked it out like a tampon. Big mistake! It sort of got stuck just before the 'exit'. Oh, the agony!
So be gentle: not only because your vagina will thank you for it, but also to minimise the risk of spilling.
Getting used to it takes a while
I am now on day three of using the cup and, to my own surprise, I'm getting used to it.
I'm no longer clenching my pelvic floor muscles, and, if it sits in the right position, I don't feel it. It does still take some poking and prodding to get it there, though.
I like that I only have to worry about it twice a day, so less frequently than you should change a tampon.
I've not had any issues with leaking or spilling.
The cup is definitely not for women who don't like to touch themselves. For me, there was a fair amount of fumbling, spreading, and poking involved, especially in the beginning.
Menstrual cups may also not be for you if you are squeamish around blood. You will be in close contact with your blood while emptying and cleaning your cup, much more so than with cups and tampons. If blood is a problem for you, try to remind yourself that your period is a totally normal and natural thing and nothing to be afraid of.

Have you tried using a menstrual cup? Tell us about your experience in the comments below or on Facebook.