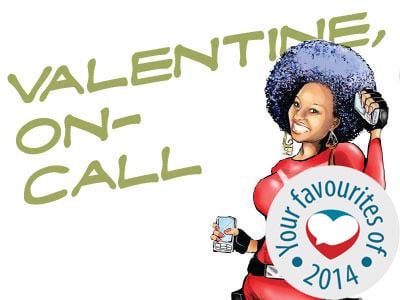 Sorry dear, you can't make me orgasm
How can I tell my man in a nice way that he can't make me orgasm? wonders a reader. It's never nice – but it is your responsibility, answers Valentine.
Just as there is no nice way to tell someone that they are fired, there is no nice way to tell a man that he cannot make you orgasm.
It's your responsibility
I hear many women asking questions like this and it bothers me. Each of us is responsible for our own orgasm. It is up to you as an individual to figure out what rocks your sexual world and then put yourself in that situation when you want to have an orgasm. Do you respond to touch more than you do to kisses? And what kind of touch do you like – light or heavy? Do you like being on top or on the bottom? What effect does lingerie have on you?…
Every woman's body is different so you have to tell your man what works for you. He cannot read your mind.
Have you told him what you like?
Before you write this man off as a bad lover, I suggest that you consider the role you have played in creating and participating in a sex life that is unsatisfying to you. Just why haven't you been able to have an orgasm with this man you like and are attracted to? Does he suffer premature ejaculation or erectile dysfunction? Is he so closed-minded that he will only have sex in the missionary position in a dark room? If that is what you are dealing with and you want to continue the relationship, then you will have to speak to him and tell him that things have to change.
Do you know what you want?
Now back to you: do you know where your clitoris is? Have you ever had an orgasm by yourself? Unfortunately for us women, orgasm is something we have to learn to do. Some of us want to stop when sexual pleasure gets intense and we cheat ourselves out of orgasm. Perhaps we are embarrassed or we don't recognise the beginning of an orgasm. We should practice by ourselves so that it is easier to do with a partner.
Do not mention that you have never had an orgasm with him. Simply suggest what you would like to try or lead his hand where you want him to touch and show him what you want him to do. You should know how your body works so that you can always have an orgasm regardless of how unskilled your lover is.
Do you agree with Valentine? Should the reader tell her man that he cannot make her orgasm? Leave a comment below or join the discussion on Love Matters Kenya or Naija on Facebook.