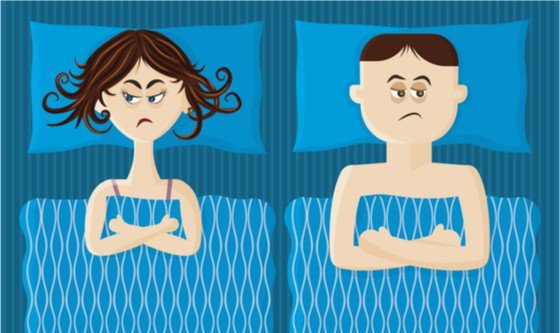 Libido differences: matching sex drives
How can a lady sustain a relationship or marriage if the guy's libido is higher than the lady's libido?
Most couples struggle matching their libido. Maybe the guy's is higher, maybe the girl's. Because libido varies greatly from person to person, and so they're rarely equal. Men and women's individual libidos also vary a lot – during the day, from day to day, over the course of a month, and over the years.
Hormones and age
So for example, a guy's libido tends to be the highest first thing in the morning because that's when his testosterone level's at its highest. Men's libido also tends to be at it's highest when they're around age 18 or so, while a woman's is usually pretty low around then, gradually rising to a maximum in her late 30s or early 40s. By which time she usually has a far higher sex drive that he does! Which is why you often hear young women complaining that their boyfriends are never satisfied. While an older woman is much more likely to say that her husband never satisfies her!
Cycle
A women's libido also varies very greatly during her monthly cycle, and both men and women's arousal is hugely affected by their mood, tiredness, stress levels and so on.
Which all goes to explain why having a happy sex life is so difficult!
Talk it out
The answer to all this, of course, is for a couple to talk about it. Because if you and your partner can understand how each other's sex drive is varying, what's a turn on and what isn't, then things will definitely improve. Plus, your arousal isn't only driven by your libido, but also by how close you and your partner feel towards one another. So if you aren't feeling emotionally intimate, for example, because you've been having a fight, then you and your partner need to discuss how to get close again.
Successful couples don't only talk about sex a lot. Just below the surface, they're making out all the time. With lots of meaningful looks, teasing, touching, and so on.
So that whenever there's an opportunity, they're both ready to go! Because even though consciously you might think you're not in the mood right now, your subconscious is always game! So any time you have a moment, 'Just Do It!' Because once you start making out, the chances are you'll suddenly realise that you are in the mood after all.
And remember: as you both get older, your libido will most likely end up higher than his!


Do you have questions about sex and sex drive? Head to our forum!