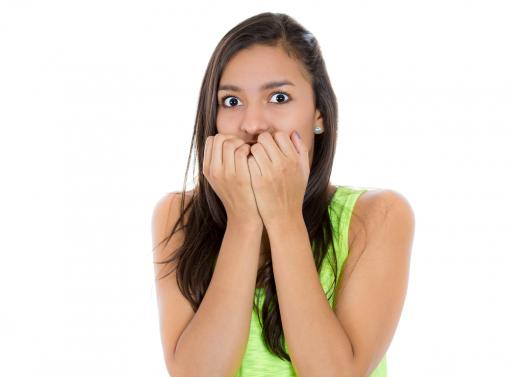 'It's just a slap, get over it,' he said…
'I was in a four-year-long relationship but it was after it ended that I learnt I was in an abusive relationship since the first day,' says Rina.
Rina's name has been changed.
It started with criticism about my likes, my dislikes, my dressing sense, my makeup, everything. I didn't realise this was not his love or concern or him being protective, it was plain manipulation.
Threats of suicide were a common feature during fights. He isolated me from my friends and family and made sure he was the only one who cared for me. I was totally dependent on him emotionally and mentally. I had lost my identity. This continued for two years and all this while I thought it was part of 'adjustments' and 'compromises' you make in a relationship.
The first slap
Then there was the D-day. We had an argument during which I cursed him in front of our friends. This ticked him off. When we were alone, he slapped me and his reasons were clear. How dare I abuse him in front of everyone!
I was in shock, pain, anger, hurt and just stunned. 'If I can hit you, you can also hit me,' that was his rule. After getting some sense about what happened I hit him back, although it was nothing compared to the blow I had received.
It was over for me, in my head. I will not take any physical abuse. But that's easier said than done when you are with an emotional psychopath. They are the kings of manipulation and emotional blackmail. I was made to realise, I deserved it and it was my fault. I did not leave.
You let them end it and that's how you get freedom.
Stay away from negatives
Two to three months later, he slapped me again during a fight. I could not believe it was happening again, after so many apologies. Again, I did not leave. I stayed because he would not let go of me. It sounds ridiculous but I didn't have the strength to deal with the drama, so I stayed.
I had been dragging this relationship for more than a year and would continue to do so for another year. I still tried to make it work, to forget everything, but it does not work that way. One needs to get away from anything that has a negative impact on you and your life.
I never trusted him after this incident and would always question his apologies. To which his reply would be, 'It's just a slap, get over it.' This was the final nail in the coffin.
I wanted out; he did not understand the gravity of his action and how much he had hurt me and I didn't have the patience to make him understand. It took a lot of courage and support from my friends to finally end it, to deal with the drama. By this time he too had given up, he knew I would not stay this time.
You let them end it and that's how you get freedom.
You would think this would be it, I'd be a free bird, but no.
Sexual abuse
You would think this would be it, I'd be a free bird, but no. There was something that did not let me sleep at night. An incident which haunted me in my dreams, which made me sick and I couldn't figure out what it was.
One day I looked up the meaning of consent and everything was clear thereafter. The love of my life had sexually assaulted me when I was passed out. I had not given my consent. You know how women are told to satisfy men. That's why I stayed quiet.
This had happened after the slapping incidents. I don't think he realised what he did and how it affected me. I have forgiven him in my head. And I'm glad that the chapter is closed for me.
Finding love again
I am 26 and have been single for more than two years now. I still haven't given up on love. I have realised that I am a hopeless romantic and have to be careful not to be in love with the idea of being in love.
At the end I would like to share my favourite, 'God doesn't give you the people you want; he gives you the people you need. To help you, to hurt you, to leave you, to love you, and to make you the person you were meant to be.'
Do you agree with Rina? Leave your comments below or via Facebook. If you have a question, please visit our forum.