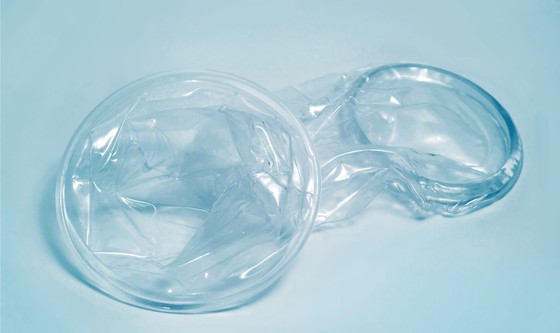 How to put on a female condom
Female condoms are a great alternative to male condoms. They might seem a bit intimidating at first, but with a practice, you will be a pro soon.
How to put on a female condom:
Squeeze the inner ring (the smaller one), making the sides touch.
Push the inner ring in as far as it will go. Leave the larger ring on the outside.
Guide your partner's penis into the outer ring.
When you've finished, twist the condom's outer ring, then pull it out.
Throw away female condom in trash after using it one time. Do not reuse.
After putting in a lubricated condom, some women said they had their first orgasms!
Extra tips for female condoms
Make it sexy!
'Tease me, tease me, until I lose control.'
Get your partner to put the condom in your vagina, and then using fingers or his penis to gently massage the outer ring on your labia or clitoris.

Look but don't touch
Alternatively, you could put the condom in while your partner watches. Tell your partner that he can look but not touch!

Bump and grind
Many women like it when their partner hits the inner ring of the female condom. Try it to see if you like it too. Apparently, this is pretty erotic for the guys – so much so that in Ghana men buy female condoms to masturbate with!

You're making me so hot
Unlike most male condoms, female ones are made out of nitrile, which is thinner than latex. So much so that when you're having intercourse you can feel your partner's body heat.
Other uses
While the manufacturers say that female condoms are to be used for vaginal sex, some couples say they are also great for anal sex. That's because they can be inserted before you get started, and can be removed after you are done, potentially reducing a mess.
Get a female condom from a Marie Stopes clinic near you. Click here to locate a clinic near you.