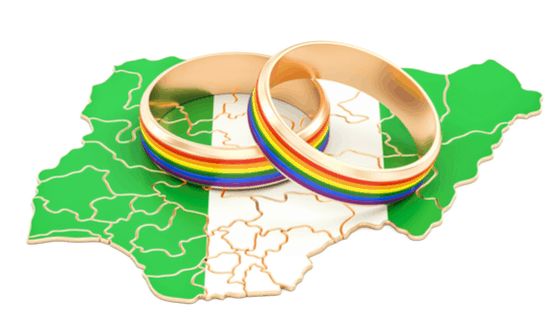 Nigeria: when a law legalises hatred
Valentine* was walking down a quiet street with an acquaintance from his university days, when, all of a sudden, three armed men emerged from a bush.
Ambush
'Move,' one of them ordered as they directed them to an uncompleted building.
'Where is your laptop?' another man asked, the veins bulging in his neck.
'I don't have a laptop here,' Valentine answered, his voice shaky.
'Then where is your phone?'

Valentine handed over his phone. He knew that he had been set up. This kind of set-up is called 'kito' in the Nigerian LGBT community: slang for the planned harassments, extortion, and blackmail of LGBT people. Valentine's assailants looked through his phone and found gay porn and incriminating messages.

'You this gay boy! We will show you today!' they threatened as they demanded his bank card. One of them went to a nearby ATM and emptied Valentine's account. Unsatisfied, they made him call family members to request for cash which was transferred to his assailants' accounts. His hands and legs were tied; he was beaten, sexually assaulted with a cucumber, and raped by one of the men.
Around 3 a.m., he was released with a threat: if he was to report, they had his phone as evidence against him. After he was released, he wobbled out to the road. A Good Samaritan paid his transport fare back home. The ordeal, which lasted for over five hours, remains the most horrible experience of Valentine's life.

'I was robbed!' he lied to his Aunty. Nobody in his family is aware of his sexuality. He couldn't report the incident to the police; neither could he seek medical treatment at the hospital.
He was even worried about sharing this experience.
Laws of hatred
'I'm not sure whether it will help someone to avoid the situation or will give homophobes ideas?' He says that the Same Sex Marriage (Prohibition) Act (SSMPA) is empowering homophobes.
Even though it's called 'marriage act', the law criminalises people who identify as LGBT, people who belong to LGBT associations, and LGBT supporters.
Clause 4.2 of the Act states that 'a person who…directly or indirectly makes public show of same-sex amorous relationship in Nigeria commits an offence and is liable on conviction to a term of 10 years imprisonment.'
Yet, the law is not specific in its definition of 'amorous' so you may be unfortunate if someone thinks you are holding hands too tightly with someone of the same-sex.

The SSMPA also states that anyone who enters into a same-sex marriage is liable to a prison term of 14 years; while anyone who 'administers, witnesses, abets, or aids' a same-sex marriage or 'supports the registration, operation, and sustenance of gay clubs, societies, organisations, processions, or meetings in Nigeria' is liable to ten years in prison.
Since the law was signed, there has been an increase in human rights abuses including arrests of LGBT persons.
Despite the fact that Nigeria is a signatory to several human right laws – domestic, regional and international – that uphold human dignity, the SSMPA remains intact, four years after it was signed. There have been continued reports of random arrests, executed by state and non-state actors.
Random arrests, blackmail & extortion
'If a police officer thinks that you aren't 'manly' enough, you can be searched. You will be unlucky if there is anything gay on your phone,' says Henry, who runs an LGBT service on social media through which he counsels LGBT people on health issues.
He explains that LGBT people are extorted or blackmailed because the perpetrators know that the victims have no one to report to.
Even though many Nigerians LGBT people are not strangers to hostility, the SSMPA seems to make it worse, inciting waves of hatred and fear.    
'The law brought hatred. And the only way for people to prove that they are not gay is by declaring openly that they are not gay.' He says that people distance themselves from anyone they perceive to identify as LGBT and they also try to separate themselves from the idea of being gay.

Winner, who has hosted a radio show that educated citizens on laws for over four years, ran into trouble when his show focused on the SSMPA in 2016.
'After the show, I was called to order. My bosses asked me who my sponsors were.' He told them that when the show focused on other laws, they did not ask him about his sponsors. He wondered what made the SSMPA edition special.
'LGBT people are also humans with rights first, before their sexuality,' he says.

In January 2015, a year after the SSMPA became a law, Kenny Badmus, founder of Orange Academy, an advertising agency in Nigeria, came out on social media as gay. Backlash followed, on social media and in real life – he lost a federal government contract. He now lives in the US. The hostile environment keeps pushing LGBT Nigerians out of the country.
Solidarity
However, there also seems to have been an increase in solidarity for the LGBT community through online platforms that focus on LGBT issues.
Until recently, there has been a scanty representation of LGBT characters and issues in Nigerian literature. In recent times, there seems to have been an increase in literary representation: 14: An Anthology of Queer Art was published as was Blessed Bodies, a collection of personal stories on LGBT issues. Romeo Oriogun won the Brunei International African Poetry Prize with Burnt Men, described by judges as 'deeply passionate, shocking, imaginative, complex, and ultimately beautiful explorations of masculinity, sexuality, and desire in a country that does not recognise LGBT rights.' And Frankie Edozien published his memoir Lives of Great Men: Living and Loving as an African Gay Man.
Henry says that even though this representation in literature is good; it is not yet mainstream enough for one to celebrate.
'Writers are writing more LGBT-focused stories and poems. But who is reading them? How many queer writings have been approved to be studied in schools? How many people are even ready to read these books openly?'
Human rights abuses continue
It has been two years since Valentine was assaulted, yet not much has changed for him or other LGBT people in Nigeria: the extortions, assaults, discrimination, and other human rights abuses continue. Valentine remains scared, and now lives, what he calls, a careful life. He hides his applications, messages, videos, and even browsers on his phone. He only meets new friends with whom he has mutual friends that he knows one-on-one. They only meet at public spaces that he is familiar with. He does not go to gay parties except those organised by people that he knows very well.

'These things are not even safe. Even the most careful get into shit!' He says.

*Valentine, Henry and Winner are not their real names