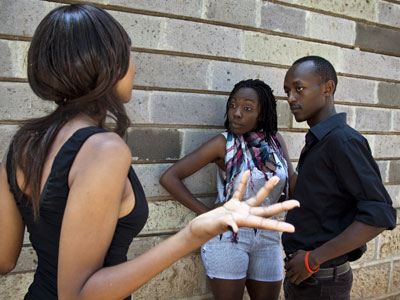 A man and many women
It is often said that men are naturally polygamous and when they have multiple partners they are just obeying Mother Nature. But there's also the Swahili saying 'mtaka yote hukosa yote' – 'he/she who wants all, loses all'.
Juggling partners doesn't make your life any more straightforward…
Juggling, juggling
Francis is a 25-year-old graduate working at a job with a handsome salary that surpasses both his boyhood dreams and what his retired father ever earned. He's 'rolling in dough', as he calls it, and the ultimate player.
At the moment Francis is seeing three girls at the same time: Maryann, Rita and Esther. During the week, he sees them on alternate days after work. Most Saturdays, Maryann would come in the morning and leave before dark since she had very strict parents. Then there was Esther who warmed his bed on Saturday night and spent Sundays with him.
For some reason Rita was only available for a couple of hours on Wednesday evenings. But they made up for this with flirtatious text messages and long phone calls. She lived about an hour away out of the city with an old uncle who did not approve of her staying out late.
Meanwhile all of Francis's mates hailed him as for 'multitasking' – as they called it – three girls. This went on for a while without the girls finding out about each other.
The application
On a Tuesday, Francis was up bright and early for a job interview at a rival company with better pay and hours. He breezed his way through the aptitude test and panel interview later that afternoon. The final step was an interview the next day with the big boss himself, Mr Mulama, who liked to have an informal chat with all potential employees.
On his way home, Rita called to confirm their date for the next day. He smiled as she was his favourite and lately he had been contemplating dropping the other two for her and making it official. He couldn't wait to tell her about this new job if he got it. He had kept his application and interview a secret for fear of jinxing it. But now, if he got the job he wanted to surprise her with the news during a weekend getaway to the coast that they had planned at the end of the month.
The interview
It is now Wednesday and the location is the office of Mr Mulama, a friendly old chap nearing his retirement. Francis felt instantly at ease with him. The informal chat went very well. They shook hands and said goodbye. Francis turned to the door and noticed a picture on the wall of Mr Mulama with a pretty lady who looked awfully familiar…
'Is that your daughter?' asked Francis with a pounding heart.
'No, that's my lovely wife Rita,' answered Mr Mulama.
Have you been played? Are you a player? Or both? It's a small world and we'd love to hear about your world. Comment below of join the discussion on Facebook.