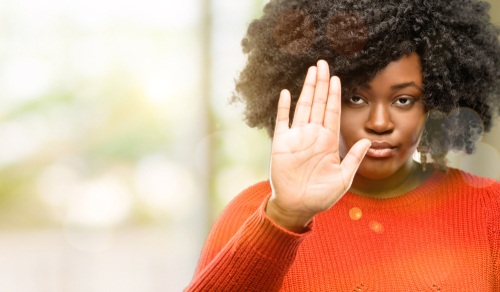 Saying no to sex during sex
Stories of women withdrawing consent during sex are often met with backlash and outrage. Often, women are labelled as selfish because of agreeing to sex only to withdraw consent as they wish.
These conversations highlight an obvious mismatch on what consent means for men and women. So what does 'No' mean to different people?

First, let's first agree with what consent is in a sexual context: 'Consent is when an individual gives permission or says 'yes' to sexual activity with another person/people. Consent is offered freely, and all individuals involved must feel they can say 'yes' or 'no' or stop the sexual activity at any point'.
Women say give excuses instead of 'no'
The most popular response from both men and women was: 'I am on my period'. Women said this was the fastest way to put a man off. Some men said they felt menstrual blood was unclean (which isn't true, of course) and had some spiritual implications.
Other men said they went as far as asking for proof as they knew periods could be an excuse to turn down their sexual advances.
Other female responses were 'I am still a virgin', 'I am fasting', 'It's against my religion', 'I'm not feeling well', and 'I'm not in the mood'.
Non-verbal 'nos'
Men, on the other hand, agreed to have heard these nonverbal responses. However, they also said that rejections often comes through non-verbal cues, like the woman turning her back, frowning, refusing, or crying if pushed too far.
When asked why women didn't just say 'no', some women said they couldn't exactly say no when they weren't explicitly asked for sex in the first place. One said 'If a boy invited you over for a movie, or for drinks and you stayed late, you just had to figure out that was code for sex.'
Pleasure isn't one-sided
Some women weren't raised knowing they could be willing participants in sex. Sex is something that was done to women to satisfy men. When backed into uncomfortable situations, they bring out their excuse book and either try, give in, or endure having non-consensual sex. Their male counterparts most felt that sex was part of the package and they didn't necessarily feel they needed to respect the excuses.
Some said they were expecting a 'no' for the first time but that it just took persistence to get the woman to change her mind.
A few understood and respected the 'no' for what it was without pushing further.
Male entitlement
In my opinion, I feel that men struggle between a sense of entitlement and a fear of rejection. A majority of women are also struggling with duty and obligation.
One thing I have deduced from both sides is a challenge in communication. This poor communication stems from the idea of virtue around sex. Women should know that they are allowed to want sex and not feel like they are sluts. Men shouldn't be made to feel weak for respecting a woman's decision.
The concept of sex should be clearly communicated as something you ask for, not something that should just happen or that must just happen.
Both parties need to know that they have the right to ask, agree, refuse, or disagree – even after agreeing.
Lastly, and most importantly, I think men and women should come to terms with the fact that sexual requests have two answers: a Yes and a No. And both answers are each individual's right. It is obvious that we need to keep this conversation open for women and men. We need to create safe spaces for dialogue so that everybody can have long-lasting, enjoyable, and satisfying sex lives.

Do you have questions about consent? You can ask in the comments section and our moderators will respond.