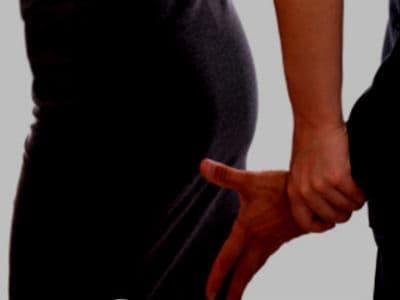 The makanga touched my butt!
I hate matatus!
My name is Mwikali. I hate matatus; Not because I own a car or because they are dirty (they usually are), but because I have been touched inappropriately by the Makangas (touts). Twice!
The first time, a makanga rubbed against my breasts with his arm while pretending to stretch.  The second time another one touched my butt. I gave the first makanga the benefit of doubt but not the second. His act was definitely intentional.
It was around 2:40 pm. As I walked towards the Githurai bus terminus, I heard a makanga shouting, 'eh, sister! Ingia! Finje Githurai! Finje!' (Hey sister! Get in! 50 shillings to Githurai! 50shilings!). I hesitated a bit and before I knew it, he grabbed my arm and pushed me towards the bus door.
I hesitated and tried to break free. He continued to grab my arm, this time firmly. He sneered at me and said 'unaringa nini?' (why are you boasting?). 
I finally give in but before I could board, he touched my butt!
I immediately turned but he had already started shouting at a young man! 'Githu finje! Ingia brathee! (Githu 50 shillings! Get in brother!). I got in and sat as I tried to understand what just happened. I seemed to be the only one who had noticed. I, thus, decide to focus on other things. Like the new dress I had just bought. It would match with my pink sandals.
I knew it was him because he was the only person around the bus door at the time. This haunts me to date. It took me a long time to ever board a matatu. I get nervous each time I board a public transport vehicle.
It's not fair. It's not right. It's illegal. It is sexual harassment and It should be reported. I did not report because I did not know I could. Now I know. 
This should be not taken as a normal part of life. It is not. It is actually quite traumatizing and leaves women feeling quite afraid and vulnerable.
Inappropriate touching and abusive language in matatus should be reported. No one should ever have to endure such injustices in public spaces.
Reporting
You have a right to report any form of harassment or violence to the nearest police station.
The good news is that some men have actually been taken to court over sexual harassment. Do not be afraid to report. Just ensure that you note the Bus registration number and a witness.
But there's a problem:
The justice system is not very keen on such cases. Unless there is public outcry or it involves a popular person. If not, your case may not go far, you may be frustrated to the point that you give up. Often, the accused may bribe their way out.
We need stricter policies to address harassment in public transport.
Get your hands off my body!
This is a message to the makangas, get your hands off our bodies. You need consent to touch anyone. Learn more about consent.
To the bystanders, say something do something! Speak up! Your voice may actually start a conversation around harassment in public transport and hopefully lead to change.
Have you experienced sexual harassement in matatus or any public means? If not, what can be done to stop this form of harassment?