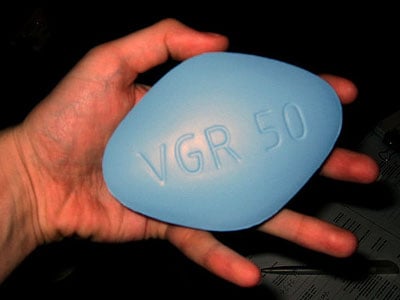 Viagra: the myths and risks
Twenty percent of healthy young men have used Viagra or a similar drug, a recent study found. And not because of erection problems, but to boost sexual performance – despite the serious health risks. A researcher describes such a user.
Urologist Dr Walter de Bonis, one of the researchers behind the Argentinean study, tells Love Matters about a typical patient who takes Viagra for kicks.
In my surgery, I talked to a patient who had come to me for the first time for a routine check-up.

'What medicines do you take?' I asked him, as I do with all new patients.
'None, only Viagra,' he answered.
'Which doctor gave you the prescription?' I asked.
'None,' he replied. 'A friend recommended it and gave it to me.'
Improve performance
Some men simply don't consider Viagra as a medicine and they can easily get hold of it without a prescription. It's a very common story heard in the surgery of a urologist.

'Do you know Viagra is a drug prescribed for erection problems?' I asked him. 'Do you suffer from these kinds of problems?'
'No doctor,' he said, 'luckily I don't have that problem'
'So, why do you take it?'
'To improve my performance.'

I asked him to explain.

'When I'm with a younger woman – don't forget I'm 48 – I take it to perform better. You know, young girls are more demanding!' he told me enthusiastically.
No evidence
I hear stories like this every day. Men who don't have any erection problems take these kinds of medicines because they wrongly think it will improve their sexual performance.

But there's no evidence that Viagra or similar drugs improve performance if they're taken by men who don't have erection trouble. What's more, as with any medicine, there are risks of attached to using Viagra if it's taken without a prescription without consulting a doctor.
Magic pills
By the time my patient calmly left the surgery, I'd managed to convince him of his own 'potency' and that he didn't need any magic pills to boost his performance.

We made a new appointment. I'm very curious to see how he gets on.
Recreational Viagra use
The study in Argentina found that:
20 per cent of men aged 18-30 have used Viagra or similar. Of them:
20 per cent did it out of curiosity
96 per cent didn't have a prescription
75 per cent say it improves their erections and sex
95 per cent think they're well-informed about the health risks
20 per cent actually are well-informed
Most users took the Viagra with alcohol or drugs, which increases the risk of side-effects.
Side-effects
The drug Sildenafil citrate, a PDE5 inhibitor, is sold as Viagra and Revatio, and under other names. Possible side-effects include:
Headaches, flushing, nausea
Diarrhoea
Blocked nose
Blurred vision
Long-term erection
rarely, loss of vision or hearing
More seriously, sudden heart problems, especially for people who have had heart trouble or a stroke before
Have you ever taken Viagra even though you don't have really have trouble getting an erection? Leave a comment below or join the conversation on Facebook.