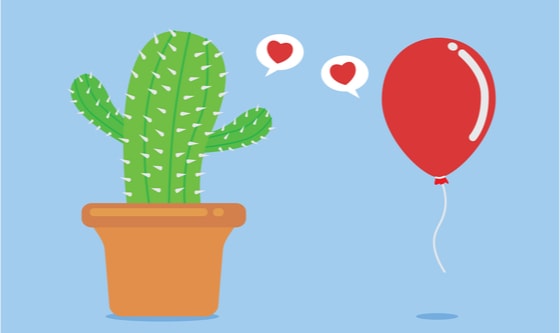 Valentine's Day fails
It's that one time of the year that many couples look forward to and singles hate – Valentine's Day. But you won't believe the bad luck some people have!
Some people will have amazing and romantic stories to share of their special Valentine's Day. Others aren't so lucky…
My hair caught fire: hospital
'We were out to dinner, and my fiancé leaned across the table to romantically feed me a piece of dessert. But in the process, he knocked the candle over and onto my freshly done weave. I ended up in the hospital after my hair caught fire.
However, we did get a free meal out of the deal – and I only had to endure a minor burn on my neck. I guess there's literally too much fire in our relationship!'
Christina
Poisoned dog
'My dog got into my Valentine's Day basket full of chocolates that my boyfriend gave me, and later died from chocolate poisoning. I was 21 and had stupidly left the candy out. Lesson learned.'
Martin
My vagina had an allergic reaction
'My college boyfriend got his buddy to let us use his parents' fancy apartment while they were out of town. We made dinner, got naked, and started rolling around on the floor. But this friend's parents had cats. And I'm horribly allergic to cats. So I started sneezing and my eyes were tearing up. But I was determined to ignore it all and have the best sex of my life.
Unfortunately, my vagina must have been exposed to some kitty hair because it started to swell up. I mean really SWELL UP. I've never seen anything like it before or since. Naturally, the V-day fun stopped there.'
Nikki
Face in cleavage
'For the second date, my latest crush invited me to his house. After a semi-pleasant evening, we were watching a movie. Without encouragement or warning, he launched himself at me and thrust his face into my cleavage.
I screamed and jumped up, only to leave him in a heap on the floor with blood gushing from his face.
Turns out the wire had come out from my bra and got caught under the chin! Oops.'
Josephine
And who is she…?
'Valentine's Day, I called my partner at college to see if my flowers had arrived. And another woman answered the phone – at 8 a.m.'
Suzie
A Ksh 4k bill and a bad taste in my mouth
'Patrick and I met at a coffee shop with friends. At first sight, I got swoony. He had curly hair and big muscles. He said I was beautiful. By our third date, he confided he was bouncing around the idea that we should get married and have a couple of kids.
And then, Valentine's Day rolled around. Off we went to an expensive restaurant, candlelit and decorated with festive hearts and pink ribbons. During the main course, he asked me if I'd ever had sex without a condom.
Sure, I said, thinking everybody has at least once. I started to say it was a long time ago, but he was already in a rage. His eyes blazed, he threw his napkin on the table, knocked over his water glass, left it there, and stood up. The chair made a horrible scraping sound against the floor. Everybody turned and looked at us. He screamed, "You put me at risk!"
Patrick stormed out of the restaurant leaving me with a 4000 bob bill and a bad, bad taste in my mouth.'
Jackie

Have you had epic Valentine's Day fails? Share with us below or on Facebook.