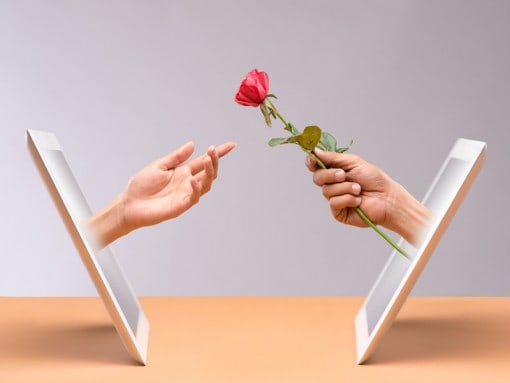 Science reveals how to succeed at online dating
How can you score a real-life date with someone you meet online? Here's how. Check out the ultimate science-based tips for online dating, based on 86 different studies.
Anyone who's tried online dating knows it can be pretty frustrating. There are thousands of profiles to sift through, hundreds of invitations sent, and hours of chitchat. And most of it doesn't lead to a date.
That's just what prompted one scientist to take matters into his own hands. He'd been trying online dating and after one too many rejections from potential sweethearts, decided to team up with another scientist to do a little a research. The two figured, why not put science to use to find out how to get a first date with someone you meet online.
They went about searching for all of the studies out there on online dating. Their findings were narrowed down to a total of 86 studies, which came from different fields of research, like psychology, sociology, and even computer sciences. The duo then went about organizing all of the data and came up with the do's and don'ts for online dating success.
The right name
With so many profiles on a given site, online daters need to find a way to stand out. How can you grab that cute guy or gal's attention?
First things first, when you're deciding on a screen name, pick one that says something about how you'd like to be seen by others, and make sure there's nothing negative about it, say the researchers. Your chances of getting noticed will also improve if you choose a name that starts with a letter in the top half of the alphabet.
Men and women are into different types of screen names, the study also found. Guys prefer they say something about a potential date's physical features, whereas gals are more likely to click on a name that shows a guy is intelligent.
The right photo
When it comes to selecting a profile pic, genuine smiles make a good first impression, and a photo where your head is tilted a little to the left or right can boost attractiveness, the research revealed. Women who wear red also tend to get more clicks. (Other research has also found that women tend to wear red when they're interested in sex, and that's something men find pretty attractive!)
Pick gallery photos where you're having a great time with others. And guys, the research shows that posting a pic of yourself surrounded by women, especially if they're smiling women, will boost your attractive ratings.
The right description
Then there's the all-important profile description. When you sit down to write, keep it real, positive, and make sure there are no mistakes, say the researchers.
Men are drawn to women who say they're into physical fitness. Women are attracted to men who list character traits like bravery, courage, and risk-taking, instead of kindness and putting others first.
Both guys and gals get points for humour, the study showed – but you'll be more successful if you show you're funny instead of saying you are.
Whatever you choose to say, make sure your profile is not all about you. There's a magic 70:30 mix, the researchers found: talk about your features and traits 70 per cent of the time, and what you're looking for in a partner 30 per cent of the time.
How to score the first date
Once you've captured your potential sweetheart's attention, what can you say to up your chances of getting that first date?
Send them a short, personalised message, telling them what caught your attention about their profile or picture, say the researchers. You can also get playful and choose words that rhyme with their screen name or headline message. But whatever you choose, don't overdo the flattery.
If you've succeeded in getting him or her to write back, now's your chance to seal the deal. When you're chatting online, make sure to respond quickly – showing you're eager is not a turn-off, the study found.
Open questions instead of those that have yes or no answers are the way to go, since they move the conversation forward. Need a good one? 'What did you like in my profile?' works well, say the researchers, since it leaves room for many positive answers.
At this stage in the game, it's important to start sharing personal information about yourself. Spontaneity and humour are also turn-ons since they put people in a good mood.
Don't be afraid to be a bit mysterious about whether you're into the person you're chatting with, but make sure you don't play hard to get, say the researchers.
When the time finally comes to meeting in real life, couples who move pretty quickly from online chatting to a first date are more likely to be successful.
Top ten tips for online dating success
Pick a positive screen name that starts with a letter in the top half of the alphabet
Keep it real when you're writing your profile
Use the 70:30 rule: 70 per cent of the profile should be about you and 30 per cent should be about what you're looking for in a date
Show you have a sense of humour instead of saying you're funny
Create a profile that's similar to those of the people you find attractive
Send short, personalised invitations that tell a person what you like about their profile or picture
Respond to messages quickly – showing you're eager is not a turn-off
Ask open questions instead of those that have yes or no answers
Be a bit mysterious to keep your potential dating guessing whether you're interested
Don't wait too long before moving from online chatting to first date
Source: An evidence-based approach to an ancient pursuit: systematic review on converting online contact into a first date, Khalid S Khan, Sameer Chaudhry
Have you tried online dating? What makes you want to respond to someone's profile? Leave a comment below or on Facebook.