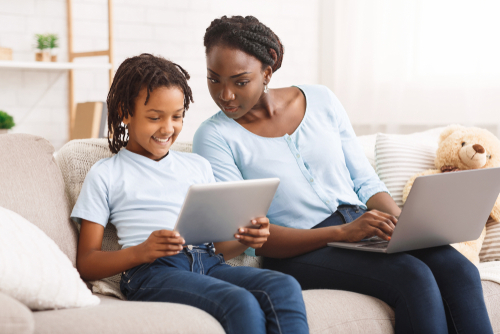 Tips for talking with your child about sexuality
By Mical Imbukwa
Sexuality education is a crucial but challenging subject that many parents struggle to speak about with their children. Many times, this is because parents do not know where to start.
A lot of vulnerability is required to have a conversation with your child about sexuality education. This is something that doesn't come naturally to many parents because of how they were brought up.
Although many parents know their children are growing up and approaching adolescence, they keep postponing this important but awkward conversation. Before parents know it, their children are learning about sex and relationships from harmful sources.
Beryl Achieng' Omondi is a Christian, filmmaker from Banana in Nairobi. Despite being a mother of three (Ken, 13, Amani, 12 and Aisha, 10) she always thought she could delay this conversation, until she found herself in an awkward situation with her eight-year-old nephew Hassan, who she cares for.
According to Ken and Amani, while on the school bus on their way home, Hassan got into a fight with two girls from his class, and when they remarked, 'Do you want to rape us?' Hassan responded innocently, 'Yes! I will rape you!'
Ken and Amani were shocked and cautioned him against those utterances. They were conversant with the word 'rape' from their Christian Religious Education classes.
'When my kids told me what had transpired, I was shocked. I felt a shiver all over my body because I could not believe what I had just heard. My worst fears had come to visit. Having sexuality conversations with my kids is something I dread. Where do I start?,' she queries.
Many parents, like Beryl, underestimate the power that initiating conversations about sex and relationships with their children can have on their lives.
According to unesco.org, sexuality education has positive effects, including increasing young people's knowledge about their bodies and relationships and improving their attitudes related to sexual and reproductive health and behaviors.
Beryl says that Hassan's incident opened her eyes to the fact that her children are transitioning into teenagehood, a stage she dreads as a mother.
The mother of three says that it gets so overwhelming, that sometimes she calls her husband, who lives and works overseas and asks him to come for his children!
'Not like I have failed in my role as a mother; parenting is not an easy task. Can you imagine how crazy it can be when one parent does it?' she says.
After digesting everything, she sat Hassan down and asked him whether he understood what the word 'rape' means. Hassan doesn't know what the word means. After telling him what the word meant, she cautioned him against using the word saying that it is offensive.
She also cautioned him against getting into fights with girls and that in case he got into any conflict with pupils in school, he should address the matter with his teachers.
She is now more intentional about having sexuality education conversations with her children and urges parents to take the conversation seriously. Since the incident, she creates time to have sexuality conversations with each of her children at different times and in a calm environment.
'I have already earned trust with my children, and they come to me whenever they have any questions. And since the term "rape" is what got us here, I have talked to my sons about respecting girls by not touching them inappropriately. That upon getting consent, they can hug and shake hands, but it should not go beyond that,' Beryl says
She also told her sons that, they shouldn't be touched inappropriately by anyone, including girls and boys in school. Since Aisha, her daughter, was not around when the incidence was reported, Beryl is setting the table on how to approach the conversation with her.
To educate herself more on the sexuality subject, she bought The Parenting Map book by Dr. Shefali and is intentional in having conversations with fellow parents in her neighborhood.
Beryl is one of many parents who were forced to start having sexuality education conversation with their children after being caught in an awkward situation. It is normal, and the beautiful part is that there is always help.
So as part of my contribution to supporting parents who are afraid to have these conversations with their children, here are some tips:
Set the table
When starting the conversation with your child, location is critical. Find a comfortable place that creates an environment of ease. That way, your child will feel safe to raise concerns and ask questions. Make sure they understand your replies.
Prepare to be honest
Actively listen to your child's questions and concerns and show them that you are listening by making eye contact, nodding and asking follow-up questions. That helps build trust and encourages them to share more with you.
Simple language is crucial. Use a language they can understand, and words that are appropriate for their age and development stage. This ensures they understand what you are communicating and opens room for questions.
Most importantly, be open and honest even if it feels uncomfortable. When you don't have an answer to a question, let them know that you will look into it and share what you learn. This way, you can build trust and openness with your child.
Age-appropriate conversations are king
The key phrase to remember when starting these conversations is 'age-appropriate'. This is because your approach with the preteens will not be the same with teens. With preteens, since you will be introducing to them the different bodily changes, you will have to use the correct names for private parts, i.e., Penis, scrotum, testicles, vulva and vagina. To kick start the conversation, you will for instance say, 'You are getting older, and there are some changes you may notice in your body. What questions do you have about that?'
You may also say, 'I think it is crucial you understand what might happen to your body as you transition from being a girl to a young woman or a boy to a young man. What are some things you have heard, and what questions do you have?'
When it comes to girls, the conversation should be introduced at age five. Talk to them about body basics and consent. Tell them that no one should touch their bodies and that they have a right to say no to anything that makes them feel uncomfortable.
When they transition to preteen, after making them understand the bodily changes they will experience, introduce the menstruation subject. Make them understand that their vagina will start releasing blood every month, and it might come with some discomfort. Something like, "During those days, your body will appear swollen and tired, and you will have sensitivity towards certain things. When this happens, don't be alarmed. It's normal."
For boys, after explaining the hormonal changes that are bound to happen in their bodies, ask them questions to gauge their level of understanding. You could say, "Based on the subject we have discussed, what area do you need me to explain more?"
Talk to your teens about making informed decisions
Make your teens understand that they are growing into adults, and they might start feeling attracted to the opposite sex. 'You can start this conversation by saying, 'I know this might be an awkward topic, but I want to ensure you have accurate information about sex and relationships. Can we talk about it together?'
After setting the table for conversations about sex and relationships, talk to them about sexual health so that they may be able to make informed decisions.
Tell them about family planning and make them understand that you want them to have resources to protect them from sexually transmitted infections and, for girls, early pregnancy. Make the conversation interactive so that you can gauge their level of understanding.
These are just a few tips and examples to guide you in the sexuality conversations with your child. From Beryl's experience, children are already being exposed to sexuality information. It's your job as a parent to ensure they are equipped with the right information so that they are safe and less vulnerable to misinformation. Have the talk today!