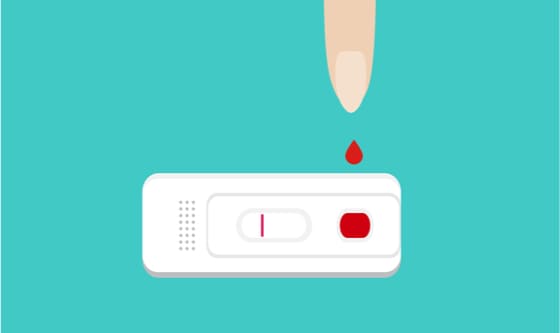 VCT and HIV testing: top five facts
Getting tested for HIV is a scary experience. Even if you are certain not to be infected, the 15-minute wait for the result can be excruciating.
​Also, there are also other worries: Are the tests reliable? What about your privacy? What happens if you are positive? We've got the answers for you.
VCT: How does it work?

Voluntary counselling and testing (VCT) is one of the most popular ways of getting tested for HIV. It's fast: the results are usually available within 15 minutes.
The counselling happens over two sessions, one before the results and a quick one after. You will discuss how one gets HIV/AIDS, how the test works, and what to do once you know your status.
If you are negative, the focus will be on avoiding the disease in the future. If you are positive, the discussion will centre on avoiding infecting others, treatment possibilities and taking care of yourself.
Together, the sessions shouldn't take more than 30 minutes and are usually free of charge.

What are your rights?

You have the right to know your status and going to a VCT centre is an easy way to do it. Still, many people worry about whether other people will learn about their status. But no: just like a doctor, a VCT counsellor is obliged to protect your privacy.
Even the government won't find out about your status. VCT centres don't pass any names to the Ministry of Health, only the total number of HIV-positive test results. The fact that you are not given your results in writing is another way VCT centres make sure that your results stay private. The counsellor might pass on your name to the HIV clinic they refer you to – but these clinics are also obliged to protect your privacy.

The test

The test involves pricking your finger for a drop of blood. Or alternatively, your mouth's insides are gently scraped with a cotton swab to get cells. These samples are then put on the test stick. Meanwhile, the counsellor will explain how to interpret your results. These rapid tests are very accurate, but very occasionally they show so-called false-positive or discrepant results. That's why every person who tests positive has to have additional blood taken for more rigorous testing that takes an additional two weeks.

The test result doesn't change if you have taken ARVs, PEP or any other medication since the test doesn't test the presence of the virus itself, but rather the HIV-antibodies produced by your immune system.

I'm positive. Now what?

Getting a positive test result is a shock. You will feel angry, scared, worried, terrified, or numb. But it's important to talk and listen to the counsellor. They provide important information on your next steps. They will also refer you to an HIV clinic. You should definitely go there since healthcare providers can make sure that you live positively for a long time.
You will also need to tell your partner and other relevant people about your status. This is called 'disclosure'. It's important to remember that the diagnosis says nothing about you as a person. You aren't a bad person just because you caught a disease.

I may have been infected. What do I do?

If you think you may have been infected, you should immediately see a doctor to get PEP (post-exposure prophylaxis), a drug regime that can protect you from infection. Then, unfortunately, you have to wait. It takes about 6 to 12 weeks for your body to react to the virus in the body. Only then, will your immune system have produced enough antibodies to show up on a test. This is called the 'window period'.
If you get tested before that, the test might be negative even if you are infected. So you need to wait three months before you get tested. If that test is negative, you still need to get another test three months later. Only if both tests are negative, can you be sure that you are not infected.
More tips for testing:
Your VCT counsellor can also give you advice on family planning and general STD prevention. Don't hesitate to ask any questions.
If you are pregnant, you should always get tested for HIV. In case you are HIV-positive, it's best to know as early as possible so steps can be taken to protect the baby.
Liverpool VCT in Nairobi offers testing for people with special needs, such as PWDs. To visit their center, find directions here. 
If you don't know where to find a VCT centre, use our 'Find a Clinic' section.
Everybody is scared to get tested. That's normal. Just tell yourself that not knowing your status is much scarier than knowing it.
You can get tested together with your partner in special couple's sessions. It might be less scary that way and you can learn together how you can avoid getting infected.
Share your experiences of getting tested. Leave a comment below or join the discussion on Facebook.