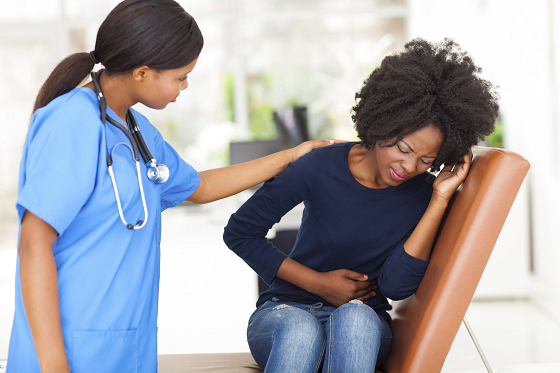 What is postpartum hemorrhage?
Some woman may experience excessive bleeding after childbirth. This has serious consequenceis incluiding death.
Postpartum Hemorrhage (also known as PPH) is a dangerous but rare condition where a woman has severe bleeding after giving birth.  
It normally occurs within one day of giving birth, however, it can occur up to 12 weeks later.
PPH affects 1 to 5 out of every 100 women who give birth.
After giving delivery, it's usual to lose some blood. During vaginal birth, women lose about 500 milliliters of blood while in cesarean birth, they lose about 1,000 milliliters of blood.
Postpartum Hemorrhage causes women to lose a lot more blood. It can result in a significant reduction in blood pressure which may lead to shock and death if not addressed promptly.
When does PPH happen?
The uterus contracts after the baby are born in order to push the placenta out. The contractions then help to put pressure on the blood vessels in your uterus where the placenta was attached. The vessels bleed more if the contractions aren't strong enough. It can also happen if small pieces of the placenta stay attached after birth.
Signs and Symptoms of Postpartum hemorrhage
If you have any of these signs or symptoms, you may have PPH.
Heavy vaginal bleeding that won't stop or slow down
A drop in blood pressure or
Feeling drowsy/ Weak
Blurred Vision
Nausea
Pale Skin
Are some women more likely than others to have PPH? 
Yes.
Some women have a higher risk of PPH. Having a risk factor for PPH does not guarantee that you will develop PPH, but it does raise your odds. PPH occurs without warning most of the time.
Some conditions that may increase the risk of occurrence include multiple-baby pregnancy, prolonged labor, obesity, and pregnancy-related high blood pressure. 
Talk to your doctor about what you may do to lower your risk of developing PPH.
How is PPH tested and treated?
PPH is must be diagnosed by a health care provider in any health facility available to you
Treatment depends on what's causing your bleeding. It may include:
Receiving fluids or a blood transfusion
Having surgery
Manually massaging the uterus: Your healthcare provider can massage your uterus to help it contract, reduce bleeding, and pass blood clots.
Your doctor may also prescribe medicine to help your uterus contract and stop bleeding.
Getting oxygen through an oxygen mask
Removing remaining fragments of the placenta.
Taking extra iron and a prenatal vitamin may also be beneficial depending on how much blood was lost.
PPH is a serious condition, kindly visit a health facility as soon as you notice any of the symptoms described here after birth.