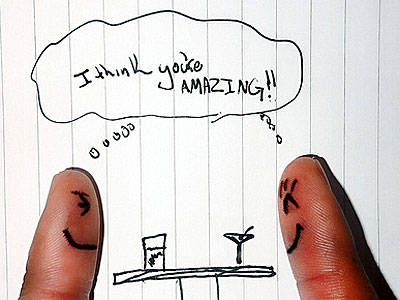 First date: do's and don'ts
A first date is so exciting it can give you butterflies in the tummy! Where should you go, what should you wear, what should you say, what should you not say… All these worries can drive you crazy. So here's our collection of do's and don'ts to help you. Good luck!
 ​​​​​ ​​​​​
Find the right place

Do your homework on what's a good place for your first date. Keep in mind that the venue can really set the mood of the date. Keep a balance – think of something that's not too steamy, but also not too unromantic. The spot should let you both have a comfortable, open conversation.

Kill the nerves

As hard as it may seem, try to keep calm. As soon as you hear your heart racing, pause, and take a few deep breaths. Relax. It's only a date, not the ultimate test of life. Remember that ultimately, it's about having fun together.

Listen and talk

Be attentive to your date. Converse. Ask questions. Be curious about their lives. And listen. Turn off your phone and put the rest of your life on hold.

Be flirtatious

Be subtle but don't hold back from flirting! It's an important aspect of attraction. If you find them hot, let them know. Compliment them. But all in moderation.
Be late

Don't show up late on your first date. Once you've fixed up the date and time, look up how long it would takes to get to the venue. Count in the traffic and every other factor that could delay you. Don't give them the slightest chance to think that they've been stood up.

Lie

Don't be dishonest. Don't tell them you're a millionaire if you aren't. First dates are often a start to something special and lasting. If you lie, you'd lay the wrong foundation and before you know it's too late to repair.

Get too drunk

Don't drink too much on your first date. Too much alcohol can disorient you. You might say and do things that you later regret. Better safe than sorry!

Seem desperate

Don't be too pushy. Read their body language. If you tried holding their hand or kissing and they didn't respond positively, let it be. Don't force yourself onto someone. Give them their space and time. Don't come across as someone desperate to get laid on the first date.

 

Have you got something to add to the list? Leave a comment here or join the discussion on Facebook.