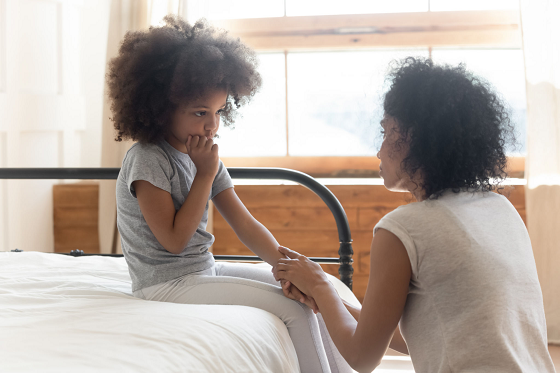 When and how to tell kids they have HIV
Disclosure is when people reveal their HIV status to other people.
Some children are, unfortunately, born with HIV. 
Most parents and caregivers fear telling a child he or she has HIV because they worry about how the child might feel, react and the many questions they might ask.
Regardless of a child's age, you can try to have more open communication with them. You're laying a sound foundation for eventual disclosure by doing so.
Studies suggest that children who know their HIV status earlier develop higher self-esteem compared to children who are unaware of their status until later in life. 
Another benefit of disclosure is that children may learn misinformation from their peers. Early disclosure means that your child receives accurate information from you. 
Disclosure of HIV status is not a one-time event, but rather a process, involving ongoing discussions about HIV as the child or adolescent matures cognitively, socially, emotionally, and sexually.
Here's what to consider
Consider why and what you want your child to know about his or her status. Perhaps your child has spent time in the hospital, taking medications or asking questions.
Whatever your reason, make sure you're comfortable with your child knowing. If you are not okay with it, your child may pick up on it and find it more difficult to be okay with it herself/himself.
Before you start talking, it's a good idea to have some HIV-related information at hand. Look for materials with a positive tone and that are appropriate for your child's age and learning level.
Children may wonder if they will die, how they became HIV-positive when they will stop taking ARVs, or if they will become ill.
It is critical to plan ahead of time how you will respond to these questions. Consider your own emotions as well. This may not be an easy or pleasant discussion.
Children need different types and amounts of information, depending on their age. Start with some simple ideas that you think are the most important.
Very young children may be too young to be told the name HIV or many details, but be as honest as possible. As they get older, you can tell them more and more things in a way that suits their age, and they can understand more details.
Children may need some time to assimilate the information. Let your children know that they can talk to you freely at any time. It is important that your children treat you as a trusted adult so that they can feel free to ask you questions.
It is also important to organize a support network of health care providers, trusted family and friends, and other parents with similar experiences before disclosing to your child that they are living with HIV.
When do you think parents should tell their kids that they have HIV?