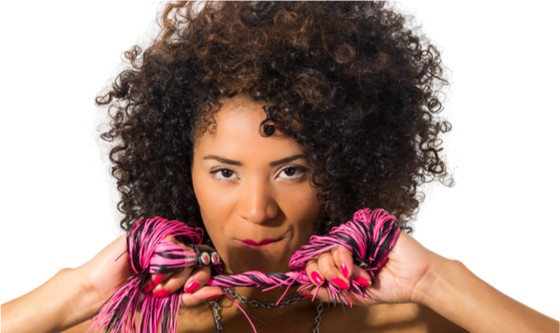 Sexual fantasies: let's get kinky
Do you know that old Ludacris song that goes, 'I wanna lick you from your head to your toes…' and it ends with, '…but I gotta know, what's your fantasy?'
Well, that's a line that a lot of couples, surprisingly, don't ask each other. Many people in relationships don't actually know what their significant other's fantasies are.
Because how are you going to bring that conversation up? It was already dramatic enough getting to the 'let's talk about sex'-phase, and the 'let's go get tested together'-phase, and the 'what positions do you like'-phase. And now you want to introduce something new again?
Sexual fantasies, however, are not necessarily new. In our hyper-sexualized world, it is actually hard – no pun intended – to not at least be exposed to sex or a sexual connotation at least a couple of times a day. And I'm being modest. You know that's a fact. And in the business of being exposed to sexual thoughts, the mind does tend to wander.
Everyone is thinking about it, at some point or another.
Let's face it: there are things that most people think they would like done to them in bed. It could be simple, from 'tie me up a little' to 'lick my toes' (again, the song!). It could be 'choke me', or 'show up at my office wearing nothing underneath but lace'. There is not 'right or wrong' sexual fantasy.
Because really, it's all in your head and humans are wired in different ways. 'Normal' sexual behaviour means different things to different people. In fact, this article talks about the fact that '… to call something clinically abnormal … I would want to see that there were negative consequences to the person's well-being other than a sense of shame or guilt from being different.' Sounds about right.
So for the most part, you're not abnormal for having sexual fantasies; and you're not abnormal for not having any, either. For many, it's quite plainly exciting to think about these things.
In fact, fantasies could even help to add a little excitement in the bedroom, even when you don't actually do anything about them – a little pre-foreplay, if you will.
Now that that's been discussed, how do you bring it up? In a bid to have an open and mutually respectful relationship, you could just say it outright to your partner, if you've decided that it's something you would like to try. Say what you want and see if they're open to it. You never know, they might be.
This takes some bravery – everyone is a little scared of being considered weird or too out there, or kinky, but at least they'll know what you think.
Or, you could simply comment on other situations that play out your fantasy – if you see something in the paper, for example, or while you're watching a movie, and you mention that you think that is attractive. It will either open up a conversation, or at least put up a marker in your partner's mind so that when you do say it, or ask for what you want, they won't be overly surprised.
If you are on the receiving end of the confession, I beg you, try to keep an open mind! Things that you haven't tried before could be fun. All you really need is a safe word in case you get too uncomfortable with the direction the sexual activity is going. But really, you never know where exploration could take you.
On the other hand, sometimes fantasies should remain just that. I mean, it's all well and good to think that you want to participate in an orgy or a three-some or copy some move you saw, but in reality, that often takes a lot more work than most people are willing to do. And the dynamics of adding people or props to your play time could lead to disastrous consequences.

Not every candle-lit scene in the movies plays out romantically in real life – sometimes, people set the curtains on fire!
So think about whether this is what you actually want or if it is only something that looks cool in the movies, which have professionals in place making sure the nothing spills or tears or breaks. And all is safe.
After you've considered all this: good luck and enjoy!


What's your fantasy? Share it with us below or on Facebook.