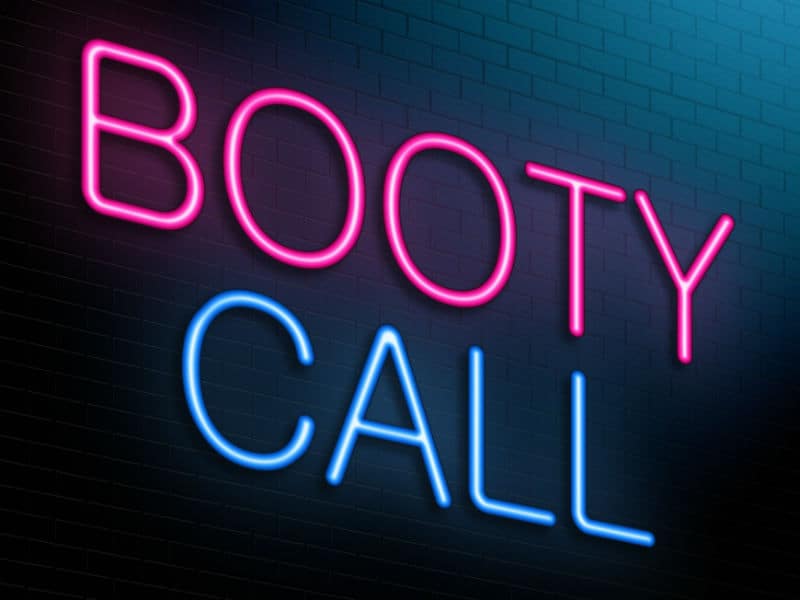 Booty calls: research reveals the truth
A 10pm phone call. 'Hi, how about if I come over?' That means 'come over for hot sex, no strings'. It's a booty call. He and she both know the deal… don't they?
Think a booty call is just about sex? That all depends on whether it's the guy or girl that's doing the calling, research shows.
The booty call – dialing someone's digits for sex and nothing more – falls somewhere in between a one-night stand and a committed relationship. Regular booty calls are more intimate and long-term than hooking up at a bar – you have regular sex with your partner and get to know them as a friend. But unlike a committed relationship, there's no talk of a future together.
Researchers had all but neglected studying the booty call until a US team came along.  They decided it was time to take a closer look at what goes on when a guy calls a girl up, or vice versa, for sex with no strings attached. And they revealed the top reasons why girls and guys say yes.
I was feeling frisky!
The team rounded up two groups of university students. With the first group, which included 61 undergrads, the research was all about numbers – is it guys or gals who make and receive more booty calls?
With the second group, the researchers dug deeper, asking 42 students why they said yes to a booty call, and why they turned the caller down cold. The guys and girls ranked a long list of reasons for accepting or rejecting booty, including everything from 'I was feeling frisky' to 'He/she made me laugh.' The researchers also wanted to know why the students' booty-call relationships didn't lead to long-term dating.
Hot or not?
Girls get more booty calls than guys, the results from the first group revealed. No surprise there, since men are more likely to have sex on the brain than women, research has shown.
But getting a booty call is one thing, giving the caller the okay is definitely another. At almost 65 per cent, these students' booty call success rates were pretty good.
What reasons did the students give for saying yay or nay to a call for sex? The number one reason was how hot the caller was. Yep, physical attractiveness was the most important factor in deciding whether or not to meet up for sex.  
(Read the top five reasons guys and girls give for saying yes.)
Do girls and guys want the same thing?
But that's where the similarities between men and women ended. For guys, giving the go-ahead was usually based on whether or not the call was going to lead to sex.
Girls, on the other hand, tended to tell a guy to come on over for reasons not related to sex. They said yes if they were into a guy's personality, thought the two were compatible, or if they'd been friends.
Women were also much more likely to say 'no way no how' to a caller, for a whole bunch of reasons.
Guys and girls see booty calls in very different ways, the researchers concluded. For men, it's mostly about the sex – being able to call up a girl for intercourse means regular sexual satisfaction without committing to a relationship.
Women, on the other hand, tend to hope that the casual sex they're having with a partner will eventually lead to a long-term relationship. Many say the reason their booty calls don't lead to something more serious is because their partner isn't interested in commitment, the research showed.
If you find yourself wanting more out of your booty-call relationship than you're getting, communication is the way to go. As with all relationships, it's a good idea not to hope things will turn out one way or another, and instead bring up the subject with your partner.
Top five reasons men say yes to a booty call
Sex
She's physically attractive
Good timing
She's into him and available to meet up
She's promiscuous
Top five reasons women say yes to a booty call
He's a friend
He doesn't want more than just sex
He's physically attractive
Good timing
He's into her and available to meet up
Would you say yes to a booty call? Would you make one? Leave a comment below or on Facebook.
Image: Paul Matthew Photography / photobank.ch (Shutterstock) / Love Matters
Source: Positioning the booty-call relationship on the spectrum of relationships: sexual but more emotional than one-night stands, Jonason PK, Li NP, Richardson J.